China's inflation rate eases for third straight month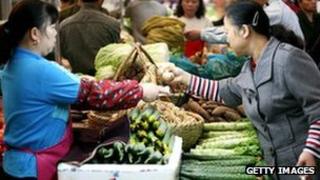 China's inflation rate has slowed for a third straight month in October, as the government continues to try to cool economic growth.
Consumer prices rose 5.5% in October compared with the same month a year earlier, the National Bureau of Statistics said.
That is down from 6.1% in September, and a three-year high of 6.5% in July.
The government has identified inflation as one of the main threats to the country's economic stability.
It started implementing policies earlier this year aimed at slowing economic growth of more than 9% to what it sees as more sustainable levels.
At the same time, it wants to ease pricing pressures that have pushed the cost of food higher and made life more expensive for consumers.
October's inflation figure is in line with analyst's expectations.
It is widely predicted that inflation will continue to ease in the coming months.
The latest release confirms that "headline inflation is on a downward trend", said Zhang Zhiwei, an economist at Nomura in Hong Kong. He added that Nomura now forecast the rate of inflation would fall below 5% in November.
Mr Zhiwei said that as inflationary pressures ease the government may be able to loosen monetary policy by cutting interest rates and reducing the amount of money banks need to keep in reserve.
High food prices
A key sign that the pressure on prices is cooling is evident in the data for food prices.
It showed that prices fell 0.2% from the previous month.
However, that may be a temporary dip as pointed out by Premier Wen Jiabao.
In a speech before the inflation data was released, he said that the winter could pose a challenge because it is a time of high demand, and low food production, according to state news agency, Xinhua.
Mr Wen added that increasing production was the country's main means of controlling prices, Xinhua said.
Tightening measures
However, those are not the only measures the government has employed.
In October last year, Chinese authorities began tightening monetary policy in an effort to cool prices.
The People's Bank of China has since raised the interest rate five times, and increased banks reserve requirements nine times.
Analysts believe that although inflation appears to be moderating, it is too soon for any major shift in government policy.
"I see no big change in the rest of this year and little possibility of a cut in banks' required reserves," says Lin Songli, economist at Guosen Securities in Beijing.
A clearer idea of which direction the government will take could come in December when it holds its annual economic working conference.