Canada delays balancing its budget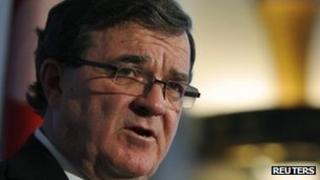 Canada's finance minister says he will not be able to balance the country's budget by 2014-15 as promised.
Jim Flaherty blamed the European debt crisis for damaging Canada's outlook.
The government set the date for achieving a budget surplus during the May election campaign, but has now moved its target back a year.
Canada was hit by the global economic slowdown in 2008, but its economy has remained stronger than most of its peers.
The country's federal debt-to-GDP ratio was 33.9% in 2010-11, well below that of many major economies.
Prime Minister Stephen Harper's Conservative Party won a majority of seats in an historic election in May that saw the left-leaning New Democratic Party become the official opposition.
Forecasts
"The government is increasing the adjustment for risk to take into account these heightened short-term concerns and, for fiscal planning purposes, provide the cushion the still uncertain environment demands," Mr Flaherty said on Tuesday.
The government lowered its forecast for the 2011-12 deficit from 32.3bn Canadian dollars ($32.0bn; £19.9bn) to 31bn.
But it has raised its forecast for the 2012-13 deficit from 18.4bn Canadian dollars to 26.4bn.
A deficit of 15bn Canadian dollars is expected in 2013-14, followed by 3.5bn in 2014-15 and a small surplus of 600m Canadian dollars in 2015-16.