Treasury to close loophole that allows VAT-free DVDs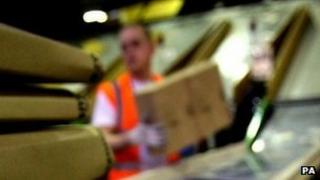 The government is to change the tax rules that have allowed retailers to avoid paying VAT by sending goods from the Channel Islands.
Low Value Consignment Relief (LVCR) will not apply to goods sent from the Channel Islands to the UK from 1 April.
The loophole has been used increasingly in recent years by companies selling CDs and DVDs online, such as Play.com, Tesco and Amazon.
The government said the loophole was now costing £140m a year.
The chief minister of Guernsey, Deputy Lyndon Trott, said the change would have a "significant impact" on the islands.
The maximum price of the goods allowed under LVCR was cut from £18 to £15 on 1 November following an announcement in the Budget in March.
"These reforms will ensure that UK companies, especially small and medium-sized enterprises, can compete on a level playing field with those larger companies with the resources to set up operations in the Channel Islands," said David Gauke, Exchequer Secretary to the Treasury.
LVCR was originally established as a VAT exemption for goods coming from outside the EU. The idea was to prevent EU members having to collect small amounts of VAT, when collecting it would cost more than it was worth.
'Moral market'
The problem has been that as the Channel Islands are outside the EU, big retailers have been sending low-price goods to the Channel Islands and then having them sent back individually to customers in the UK.
The government said that LVCR will continue to apply to goods coming from other countries outside the EU.
"The removal of this major market distortion should be welcomed by all UK businesses that wish to trade online," said Richard Allen, spokesperson for Retailers Against VAT Avoidance, a group that has campaigned against LVCR.
"The VAT Loophole is not only contra to the basic principles of EU VAT law but is also contrary to any sense of fair play and a 'moral market'."
Jersey's Economic Development Minister, Senator Alan Maclean, said more than 1,700 people were employed in the fulfilment industry across the Channel Islands.
Channel Island legislators are worried about the amount of notice they have been given of the closing of the loophole.