Concern about car insurance firm's 'high' refusal rate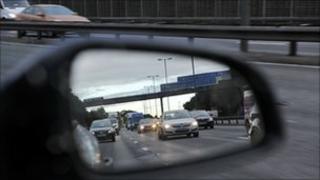 An online motor insurance company has told the BBC that it refuses about a quarter of applications.
Ecar Insurance revealed this after BBC Radio 5 live investigated a complaint from a customer who was refused cover but was still charged £75.
The British Insurance Brokers' Association called Ecar's refusal rate "very high", saying the market rate was much lower.
Ecar Insurance says it takes validation of customer information seriously.
It also claims it follows industry practice on the handling of complaints.
Last month, 25-year-old Ashley Bennett, from Tunbridge Wells, started looking around for car insurance for her Fiat Punto.
After searching online, she contacted the company Ecar Insurance, which offered her the best price.
She sent them the paper copy of her driver's licence and a certificate to say she had had no accidents in her first year of driving.
But the company then wrote to her to say it had not received them.
Cover denied
Ms Bennett resubmitted the documents and she received an email to say the company had received her certificate and if it needed any further information, it would contact her.
But a few days later, Ms Bennett received a further email from Ecar to say that, because it had not received her documents, her application had not been accepted.
The firm told her its terms of business make it clear that it also needed to see her photo card licence.
Ms Bennett says this was never mentioned to her in any correspondence with the company and industry insiders told 5 live this was not commonly needed for insurance applications.
"It wasn't very clear to be honest and when I tried to get through to them to sort out the problem over the weekend, no-one was answering," she told 5 live Investigates.
"It was all done by email and it just seemed it wasn't dealt with very well."
Ms Bennett, like other customers whose applications are refused by Ecar, was charged £75 even though her application was rejected.
And it meant that she was not able to drive while she sought alternative cover.
"Obviously I couldn't use the car and it was very stressful trying to figure out if I could then go on and try to find someone else straight away," she said.
Ecar Insurance says it gives customers 23 days to provide the documentation needed to validate their information.
If it does not hear from applicants in that time, it says it sends letters by recorded delivery seven days prior to cancelling their policy.
But Ashley Bennett's experience is not an isolated case.
Complaints 'every week'
There are dozens of complaints detailing similar problems with the insurer on consumer message boards.
The Financial Ombudsman Service says that every week for the past six months it has been receiving a handful of complaints of this nature.
But it would not say which companies had been complained about.
And Ecar Insurance has revealed to 5 live Investigates that as many as one in four of their customers has an application refused.
Alan Sanderson, chief executive officer of the broker division of Brighthouse, which owns Ecar, told the programme the company's checks have to be strict because insurance application fraud is a big problem for the industry.
"By verifying the customers are who they say they are it means we can offer good prices to those customers that are prepared to tell the truth when they apply," he told the BBC.
"Part of our validation process is to check 100% of our customer applications."
Ecar said it explained on its website, and in writing to Ms Bennett, that both parts of an applicant's driver's licence were needed in order to check the documents were consistent.
"We've had, in the past, customers who have falsified their documentary evidence basically to try and get cover with the wrong information," he explained.
But the British Insurance Brokers' Association (BIBA) told 5 live that Ecar's refusal rate was out of step with the rest of the industry.
"A 25% cancellation rate is very high and we don't know why that is but the market would not have a rate that high across the board," said Graeme Trudgill, from BIBA.
"It is disappointing that so many customers are having their applications cancelled and we would urge everyone to do all they can to ensure applications are valid and no-one is going uninsured."
James Daley, editor of Which? Money agreed that Ecar's methods are not standard industry practice.
"These days most insurance companies share information via databases and they can also share information with the DVLA so there shouldn't be any need for anybody to send driving licences in the post," he told 5 live.
"That would indicate that they are really rather antiquated systems that this insurance company are using.
"Secondly it just sounds like bad customer service really."
After 5 live Investigates took up Ashley Bennett case with Ecar Insurance, the company refunded her money.
"I then went back with the company who I'd been with for my first year's driving and they've been fantastic," she told the programme.
But Ecar Insurance now appear to regret their decision to give Ms Bennett her money back.
In a statement, the company's chief executive officer Arron Banks said: "My only regret in this matter is that against our normal procedure and in an attempt to pacify the customer, we issued Miss Bennett with a refund of the cancellation fee.
"It remains our policy to penalise those who cheat so that we can reward those who don't."
5 live Investigates is on BBC Radio 5 live on Sundays at 21:00 GMT, or you can listen again via the BBC iPlayer or the 5 live Investigates podcast. Email the programme: goldberg@bbc.co.uk.