UK manufacturing output increases more than expected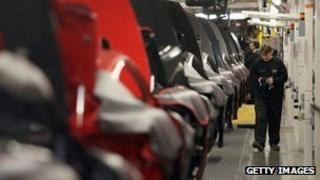 The UK's manufacturing output rose more than expected in September, official figures have revealed.
Factory output increased by 0.2% compared with August. From a year earlier, it added 2%.
The latest data from the Office for National Statistics follows a 0.3% month-on-month decline in August, and is the first rise in four months.
The wider measure of industrial output, which includes oil and gas extraction, saw no change in September.
Analysts had expected manufacturing output to rise just 0.1% in September from August.
'Reassuring'
The British Chambers of Commerce welcomed the latest figures.
BCC chief economist David Kern said: "Seeing the sector remain in positive territory despite difficulties in the eurozone and tough austerity measures in the UK is reassuring.
"Although pessimism about the health of manufacturing is unnecessary, the sector does face difficult challenges and we must reinforce the modest recovery that we are seeing."
Mr Kern added that the BCC would like the government and the Bank of England to carry out future measures to boost lending the small and medium-sized companies.
"The autumn statement at the end of this month will provide the chancellor with a prime opportunity to introduce more policies to support growth, and to reallocate priorities within the overall spending envelope," he said.
Chris Williamson, chief economist at Markit, was less pleased with the latest manufacturing data.
He said: "This is a disappointing rate of growth for a sector that was hoped to lead the UK's economic recovery, and growth looks set to weaken further in the final quarter of the year."