Bank of England needs 'radical shake-up' MPs say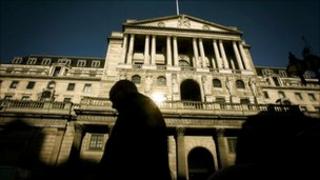 The Bank of England needs a "radical shake-up" to prevent future crises, according to MPs.
The UK's Treasury select committee issued a series of recommendations, including more oversight and that the chancellor take direct control of the Bank when needed.
That power should be "temporary and limited".
"It should be crystal clear who is in charge at a time of financial crisis," committee chairman Andrew Tyrie said.
In a report, the committee recommended that reforms go further than current draft financial legislation proposed by the government.
The vast majority of the committee's recommendations seek to make the central bank more answerable to MPs.
Overhaul
The Bank was given independence from parliament - in line with other central banks worldwide - and given complete control of monetary policy by Gordon Brown in 1997.
But the MPs said that it is unclear who - of the Treasury or the Bank - is in charge when there is turbulence in financial markets and banks are collapsing, as has happened over the past few years.
Crisis jargon buster
Use the dropdown for easy-to-understand explanations of key financial terms:
AAA-rating
The best credit rating that can be given to a borrower's debts, indicating that the risk of borrowing defaulting is minuscule.
"The chancellor should have a specific power of direction when public money is at risk," Mr Tyrie said. "This will place the chancellor firmly in charge during a crisis and accountable to parliament for decisions."
The Bank is currently run by a 12-member Court of Directors.
This should be replaced with a "smaller, more expert" supervisory board that has its own staff and must respond to "reasonable" requests for information from Parliament.
The committee also said the governor of the Bank - currently Mervyn King - should be appointed for a single, non-renewable term of eight years.
The Monetary Policy Committee (MPC) - which sets interest-rate policy - and the Financial Policy Committee should have a majority of external members, MPs say.
The MPC currently has four external members out of nine.
The Treasury select committee also criticised "over-rigid" rules on conflicts of interest that deter "suitable candidates".
"Possible conflicts should be dealt with on a case by case basis, drawing on best practice on major public company boards," MPs said.
The last person to join the committee was Ben Broadbent, a senior economist at Goldman Sachs, who replaced Andrew Sentance.