Credit Suisse to hand over US account tax details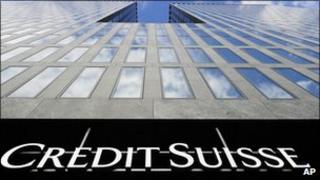 Swiss bank Credit Suisse has sent letters to some US clients, saying their account details may be given to the Internal Revenue Service.
It is unclear how many US clients have been notified, but it covers accounts open from 2002 to the end of last year.
Clients are told they can either agree to the handover of data to Swiss tax authorities who can send it to their US counterparts, or contest the process.
The letter concerns a demand from the Swiss Federal Tax Administration.
"In connection with the IRS Treaty Request, the SFTA has issued an order directing Credit Suisse AG to submit responsive account information to the SFTA," Credit Suisse said in a statement to the BBC.
This concerns a request for administrative assistance from the IRS to the SFTA under the 1996 double tax treaty between the two nations.
In February the US indicted four Credit Suisse bankers for helping taxpayers hide money in secret bank accounts.
Switzerland is trying to reach a deal with the US that would cover its entire banking system.
Tax crackdown
In recent years US authorities have pressured several global banks to help them fight tax evasion.
The US Department of Justice's initial target was Switzerland's other major bank, UBS.
It threatened UBS with legal action if the Swiss bank failed to hand over the details of 4,450 US customers suspected of tax dodging.
Following years of intense pressure from the United States, in June last year the Swiss parliament passed legislation permitting the country's banks to share customer details with the US authorities.
UBS ended up paying a $780m fine, but more importantly the new legislation put an end to Switzerland's famed banking secrecy.