Obama opens Gulf and Alaska to further drilling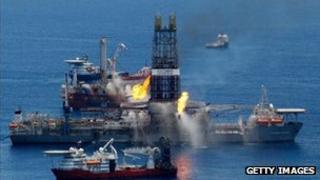 President Obama has agreed to allow further oil and gas drilling in the Gulf of Mexico and Alaska.
The five year programme to run from 2012 comprises 15 new leases including parts of the Chuckchi and Beaufort Seas in Alaska.
However, the plans are not as extensive as had been suggested by the administration prior to the Gulf of Mexico spill.
Republicans had called for a wider expansion of leases.
The administration had previously suggested opening up areas off the east coast to drilling, but that plan was dropped following the spill and subsequent cleanup operation.
Alaska row
The lease sales in Alaska will be the first since 2008.
Oil major Shell paid $2.1bn (£1.3bn) for leases in the Chuckchi sea in 2008, but it has so far failed to drill any wells due to regulatory hurdles and lawsuits from environmentalists.
The firm hopes to start exploratory drilling in 2012.
The administration said the new lease auctions in Alaska would be held late in the five year period to allow for scientific evaluation.
"The approach we are taking is a cautious one," said deputy interior secretary David Hayes.
"We are aware of the substantial issues associated with major production."
Environmentalists criticised the decision saying there were no procedures to deal with a spill in the sensitive region.
"Spill prevention, containment and response systems are not equipped to work in challenging Arctic conditions. In short, when there is a spill in the Arctic, we will not be able to clean it up," said Athan Manuel from the Sierra Club.
Not enough
Republicans have criticised the plan for not going far enough.
They say further drilling is needed to cut oil prices and promote economic growth.
"The Obama administration's draft plan places some of the most promising energy resources in the world off-limits," said Republican Representative Doc Hastings who drafted a bill promoting offshore drilling.
But the administration insisted that more than 75% of the estimated undiscovered oil and gas on the US outer continental shelf would be made available to drilling.
"We see robust oil and gas development in the Gulf of Mexico," said interior secretary Ken Salazar.