Societe Generale cuts payouts after Greece debt loss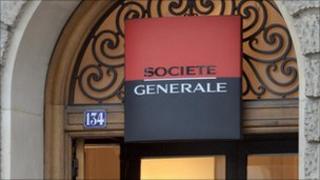 Societe Generale has cut bonuses and cancelled its dividend after recording a profits slump due to a 60% write-off of its lending to Greece.
The bank's net profit for the third quarter was 622m euros ($854m; £533m), down 31% from last year.
France's second-largest lender said it would not pay a dividend in 2011 in order to boost its balance sheet.
Chief Executive Frederic Oudea said: "We are giving priority to the strengthening of the group's capital."
The bank's capital is a cushion against future possible losses, and is built up from retained profits as well as from the proceeds of new share issues.
He added that bonuses at the bank would also be affected, with "a significant decline in performance-linked pay" within its corporate and investment banking unit.
The company also said it had sold 10bn euros in toxic assets and was reducing its exposure to eurozone sovereign debt.
However, their retail arm performed well, with profits up nearly 15%, driven by an increase in mortgage lending and by attracting new customers.