Cambodia's fashionable rebels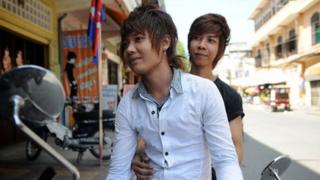 As the sun sets, the rebels come out. Their favourite form of transport is the Scoopy motorbike. Their destination is Phnom Penh's riverside branch of Pencil.
On the face of it, this is an unlikely venue for youthful insurrection.
This nondescript, low-rise building in Cambodia's capital was, until recently, a slightly shabby supermarket. But where the shelves of food and household goods once stood, the rag trade has taken over.
This is what the rebels have come for. You shall know them by the brevity of their skirts and the blondness of their hair.
Too much flesh?
They arrive in force. Hundreds of motorbikes are already crammed into the narrow parking area in front of Pencil by 17:00, and a growing queue of others is starting to block the road. The four-wheeled drive cars dropping off the more well-to-do rebels exacerbate the congestion.
Many of those arriving share a common look: micro-mini skirts or hot pants for the women, and elaborately coiffed and coloured hairdos for the men.
In many countries, this would barely raise an eyebrow, but in Cambodia it could be read as a deliberate effort to confront authority.
The lithe-limbed, topless apsara dancer carved into the stones of the ancient temples of Angkor may be one of the icons of this small nation, but the modern powers-that-be frown on the exposure of too much flesh.
In the past, television celebrities have been ordered to dress modestly, and keep a conservative hairstyle.
Even those with a lower profile have had to contend with the attention of teachers and traffic police. Both groups have been known to administer impromptu haircuts or even cart offensively styled youngsters off for "re-education".
'More exciting'
All this is a sign of how the aesthetic norms, in place since three decades of conflict came to an end in the 1970s, are being challenged.
"It's changed a lot in the past two or three years," says Cambodia's leading model agent, Sapor Rendall.
"Designers are making things more exciting now. When we got out of the war, it was very conservative. In the past you'd think: 'My mum would kill me for dressing like this'," she says, gesturing to her low-cut, cleavage-exposing vest top. "But now... don't care."
That attitude is shared by the young crowd at Pencil.
"Sometimes my mum asks 'Aren't you ashamed of going out like that?' But it's changed for the new generation," says Arun, a 25-year-old shop-worker with crimped and highlighted hair, who says she takes style tips from international pop singers like Rihanna, Beyonce and Pink.
Her 23-year-old friend Monika says her mother does not mind her dyed-blonde hair or her preference for short skirts.
"People can do what they want now," she says. "Not just dress as the authorities say. It's a free style - a sexy style."
A Korean style, as it turns out. The young women all acknowledge the influence of the slew of celebrities coming out of Seoul, who they watch on the wildly popular local, youth-orientated channel MyTV.
One of the busiest concessions inside Pencil is simply called Korean Style.
There are dozens of other clothing stalls - most no bigger than a walk-in wardrobe, with garments hanging from floor to ceiling and a fitting area squeezed into a corner.
Daly Na, 19, runs a stall called Darlink, which specialises in hot pants.
"These are my designs," she says, pointing out the boldly coloured cut-offs on one side of the shop. Copycats are rife, she notes ruefully.
"People have seen what they're wearing in other countries," says Ms Na. "Everybody wants to be Korean - or pick up styles from Thai and Hong Kong fashion magazines."
'Not our culture'
Prices can be bargained down from an initial asking price of $15 (£9). However, the hot pants are still too expensive for those outside of a rapidly emerging urban middle-class.
And Ravy Nick, a 19-year-old student, finds it hard to disguise her distaste for the styles on display in Pencil.
"This is not our culture," she says. "Men look down on you when you wear sexy. They think you're easy."
However, Ms Nick believes the sartorial mood may have shifted irreversibly.
"The government can say things, but they haven't made any rules or laws - they're not doing anything about it."
As Cambodia has one of the youngest populations in the world, the numbers would seem to be on the side of the fashion rebels.
For the moment, their desire for self-expression appears to be limited to personal style and consumerism. There seems to be little appetite for any movement other than that of the upward march of the hemline.
However, as the increasingly affluent urban youth become ever more savvy with social media and foreign travel, they may also bring further changes to a country finally emerging from conflict and conservatism.