Repsol makes big shale oil find in Argentina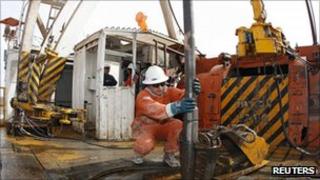 The Spanish energy firm Repsol has made its biggest ever oil discovery in Argentina, finding reserves of nearly 1 billion barrels of shale oil.
The find of 927m barrels could make Argentina one of the world's leading producers of the oil.
The discovery was made by the Argentinian energy firm, YPF, Repsol's subsidiary in the country.
It says that additional reserves could be found as much of the area where YPF is working remains unexplored.
Monday's discovery increases the group's oil resources by approximately 50%.
In a statement the company said that the find "will transform the energy potential of Argentina and South America, boasting one of the world's most significant accumulations of non-conventional resources".
The find is located in the Vaca Muerta basin of Argentina's Neuquen province.
Argentina has one of the world's largest reserves of shale, ranked number three in the world in terms of recoverable resources, according the US Energy Information Administration.
Demand for shale oil and gas has increased rapidly in recent years as other fuel costs have risen.
In the US especially, shale is being seen as a reliable source of energy helping the country reduce its dependence on oil from overseas.
However, critics argue that the process involved in extracting shale gas and oil is expensive and damaging to the environment.
YPF started work on developing unconventional energy resources in Argentina in 2007 and announced a huge shale gas find in December 2010.