Dealing with the euro's volatility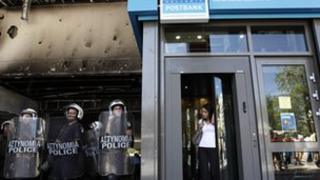 The turmoil in the eurozone and the threatened bankruptcy of Greece has started to worry ordinary people, not just politicians, economists and commentators.
In the past week or so there has been a surge in the number of customers calling us for advice.
They range from British expatriates to owners of assets in the eurozone such as property.
They are hugely concerned about how to protect themselves from negative moves in the exchange rate, especially as the problems for the euro as a single currency and the European union as a whole are far from over.
Options
Daily exchange rate volatility has soared to the highest levels since May.
Last week for instance, the pound rose 2.6% against the euro in one day, from 1.1380 euros to 1.1695 euros.
Against the US dollar the euro moved from 1.4170 to 1.3600, a downward movement of 4% in just 24 hours.
People who move money in and out of the eurozone do not have to sit and suffer volatile exchange rates.
If they cannot afford to see the value of the pound fall further, or they are finding that currency fluctuations are making monthly budgeting impossible, they do have options.
Unlike many of the High Street banks, the larger more established currency specialists allow them to fix the exchange rate across their payments for up to 12 months.
This means they know exactly how much is being transferred every month.
Pensioners receiving a UK pension particularly like the service, as they know how much their pension will be worth each month.
By using this kind of service, clients can also save money because they can avoid unnecessary international banking charges.
If you are more optimistic about sterling's future, and are therefore uneasy at the thought of locking into exchange rates, the very least you can do is shop around for better exchange rates.
You can compare the rates offered by your High Street bank with those from a currency specialist, particularly one which offers an online service for smaller amounts of money.
The rate offered often beats the banks and other alternatives such as PayPal and Western Union.
Expats and property owners
Talking to clients, it is clear that many British expatriates are being forced to abandon their life in the sun and return home.
They have seen their savings and income stripped by almost a third through a mix of sterling depreciating and lower interest rates on their savings.
Meanwhile many UK residents with homes abroad have seen the cost of owning a property overseas rise to unaffordable levels.
This has been due to sterling's managed depreciation by the Bank of England.
According to our statistics, the average Brit transfers £15,000 per annum to cover the main overheads associated with owning and maintaining a property overseas.
This includes mortgage repayments, property maintenance and the payment of bills and taxes.
This has led many of our clients to downsize or sell their place in the sun and repatriate the proceeds.
The largest number are sending money back from Spain and France and the average age of those repatriating strongly points towards downsizers.
Buying a home overseas
While we have a number of clients buying property overseas, the numbers of people doing so has fallen by more than 85% since the international property market peaked in 2007.
Those that are buying are doing so predominantly in France, Spain and the USA.
When buying overseas, the risk-free solution would involve buying all of the euros immediately, thus fixing the cost at the outset.
That is because you will not only know the price of the villa but also the cost of the euros to pay for it.
This is called buying currency for "spot".
You can then deposit the bought currency to earn some interest and send payments to the agent or developer as requested.
Hedging
The high-risk strategy would be to buy the euros each time that you are required to send them to the agent.
This means that you have no idea what the property is going to cost until you send the final payment, which could induce some sleepless nights, especially if you are on a tight budget.
Due to the current uncertainty in the financial markets, most of our clients play it safe and we have seen a 65% increase in the number of buyers hedging their currency purchase through the use of one of more forward contracts.
In essence, a forward contract means that you can buy the currency now, and pay for it later.
You will be required to pay a 10% deposit upfront and the remaining balance upon the maturity of the contract.
For example, if you wish to buy £100,000 worth of euros but do not need to send them for three months, you can agree the exchange rate now, place a £10,000 deposit, and pay the remaining £90,000 balance in three months.
If the exchange rate moves at all in that three-month period this will not affect you at all, as you have bought currency at the originally agreed rate.
If you are looking to achieve a specific rate or you have strong views about future exchange rates you might want to consider a market order.
This allows you to target a specific rate of exchange.
Safe as a bank?
Understandably, clients are also worried that if the situation in Europe deteriorates, the value of their euro holdings will plummet and if a bank collapses, they might lose everything.
Due to the widely reported problems that European banks - specifically Spanish, Italian and French - have been having, expatriates and international property owners are opting to move their savings and working capital back into Sterling and back into the more familiar and trusted UK banks.
On 1 January 2011, UK savers were given £85,000 worth of protection per person, per firm in accordance with an EU directive. The limit for joint accounts is £170,000.
The new EU laws have also enforced a standard compensation limit across Europe at 100,000 euros.
Therefore it is best to spread your savings over as many savings institutions as possible - never holding more than £85,000 or 100,000 euros in each.
The opinions expressed are those of the author and are not held by the BBC unless specifically stated. The material is for general information only and does not constitute investment, tax, legal or other form of advice. You should not rely on this information to make (or refrain from making) any decisions. Links to external sites are for information only and do not constitute endorsement. Always obtain independent, professional advice for your own particular situation.