France reveals further budget savings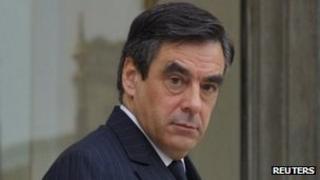 France has announced plans for further budget savings of 7bn euros ($9.6bn; £6bn) in 2012 and 11.6bn euros in 2013.
The eurozone's second biggest economy is seeking to reduce its deficit and protect its triple-A credit rating.
PM Francois Fillon announced measures including an acceleration in pension reform and a rise in VAT and corporation tax.
The cutbacks come on top of 12bn euros of planned savings over the next two years, announced in August.
In total, Mr Fillon said the goal was to produce a further 65bn euros of savings by 2016 in order to reduce the public deficit to zero.
The retirement age in France will now rise from 60 to 62 in 2017, a year earlier than planned.
VAT on many goods and services will be raised from 5.5% to 7%, except on essential goods such as food.
Corporate tax on companies with a turnover of more than 250m euros a year will also temporarily be raised by 5%.
'Collective efforts'
"The time has come to adjust France's efforts. With the president, we have only one goal - to protect the French people from the serious difficulties that many European countries are now facing," Mr Fillon told a press conference.
"I believe that our citizens are now aware of the risks to our livelihoods and futures caused by deficits and debt. Bankruptcy is no longer an abstract term.
"Our financial, economic and social sovereignty require prolonged collective efforts and even some sacrifices."
France's top-notch credit rating has come under threat in recent months.
In October, ratings agency Moody's warned it might place a negative outlook on the country's triple-A rating within three months because the government's financial strength had weakened.
Slow growth
The budgetary measures had addressed France's deficit but not the slow growth the country faced, according to Marc Touati, chief economist at French brokerage Assya.
The government has revised down its growth forecasts twice this year.
In August it lowered growth expectations for 2011 from 2% to 1.75% and for 2012 from 2.25% to 1.75%.
Then in October, it revised its estimates further to 1% growth per year for both 2011 and 2012.
"What is somewhat disappointing about this is that we are forgetting the main thing, which is that today we have no growth," Mr Touati said.
"We are on the brink of a recession, we are not even sure to reach 1% growth next year."