Eurozone retail sales fall sharply amid recession fears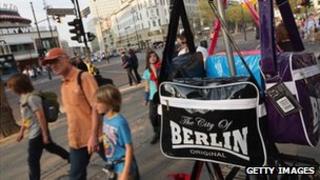 Retail sales in the 17 countries that share the euro fell sharply in September, reigniting recession fears.
In the first negative reading since May, sales slipped 0.7% in September versus August, leaving them 1.5% lower than a year earlier.
While Spain and France both saw falling sales, Germany bucked the trend, recording a 0.4% rise in sales during the month, according to Eurostat data.
Sales in the 27-nation EU fell 0.3% as a whole in the month.
On an annual basis they fell by 0.8% in the EU as a whole.
In Spain, the single currency's fourth-largest economy, sales fell 1.7% as the country struggles with the highest jobless rate in the eurozone.
In France they fell by 0.6%. Data was not yet available for Italy or Greece.
'Looming recession'
The figures from Eurostat, the European Union's statistics office, come amid more turmoil in the eurozone, as Italy's borrowing costs hit a high in eurozone history, renewing fears it could be the next eurozone debt crisis victim.
Greek PM George Papandreou announced on Monday he would step down, after he agreed a deal with the country's opposition to form a new coalition government to approve an EU-IMF bailout package.
The sharpest increases in retail sales were in non-eurozone members, Poland (2.4%), Britain (1.0%) and Latvia (0.9%).
Sales of food, drinks and tobacco in the euro area in September were flat. Sales of goods other than fuel fell 0.8%, Eurostat said.
Economists said the figures showed more uncertainty is around the corner for the eurozone countries.
"This reinforces fears that the eurozone is headed for contraction in the fourth quarter and recession is looming," said Howard Archer, economist at research firm IHS Global Insight.
"The sharp fall in eurozone retail sales in September provides further justification for last week's interest rate cut from 1.50% to 1.25% by the ECB," he said, adding that this will fuel expectations of a further rate cut.
"It was a pretty disappointing figure, and the 0.7% decline in retail sales really suggests there is a huge amount of uncertainty coming through to consumers," said Citigroup economist Juergen Michels.
"It shows the new round of financial stress and the uncertainty of the sovereign debt crisis, so we see significant implications on consumer behaviour. "