Dreamliner hit by landing gear problem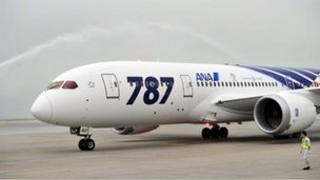 A Boeing 787 Dreamliner has suffered its first technical glitch, after less than two weeks in commercial service.
The All Nippon Airways domestic flight was forced to make a second landing approach at Okayama airport in Japan, after a warning light showed the landing gear had not fully deployed.
The plane, carrying 249 people, eventually landed safely, ANA said.
The 787 Dreamliner made its first commercial flight on 26 October, from Tokyo to Hong Kong.
The problem was due to a hydraulic valve fault, and the landing gear had to be manually engaged.
ANA, the launch carrier for the Dreamliner, began domestic services with the jet last week.
The problem comes less than a week after a much more dangerous incident in which another Boeing plane, this time a 767-300 with 220 passengers on board, made an emergency landing on its belly at Warsaw international airport after its landing gear failed.
On that occasion too, all passengers and crew safely disembarked.