Ryanair profits from higher revenues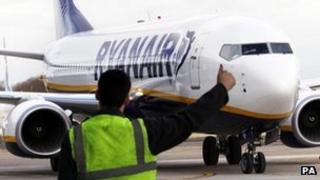 Ryanair has reported a 23% rise in second quarter profits, and said its full-year results will be better than previously expected.
The budget airline made a pre-tax profit of 463m euros ($637m; £398m) in the three months to 30 September, up from 378m euros a year earlier.
Ryanair said its annual profits would be 10% higher than its previous target.
It said it was continuing to see higher revenues per passenger offset high fuel costs.
Expansion
Ryanair chief executive Michael O'Leary told BBC Radio 4's Today programme that the airline would be sticking to its growth plans.
He said: "We have been expanding rapidly for 20 years now, there [is] more and more demand for Ryanair services across Europe."
Mr O'Leary said last month that he intended to double the size of the airline over the next decade.
He added that the rise in profit came despite the "economic downturn in Europe".
Ryanair's chief financial officer Howard Millar, expanded on this point, saying: "So far we have not seen any impact from recession."
The airline also confirmed that it would ground up to 80 aircraft over the winter due to high oil prices, a move it first announced earlier in the year.