Tui prepares Greek hoteliers for possible euro exit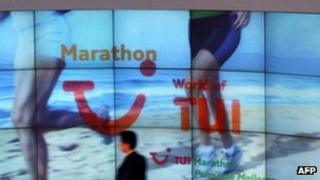 German tour operator Tui has asked hotels in Greece to sign new contracts spelling out how the company will pay its bills if Greece leaves the eurozone and starts using a new currency.
A spokesman for the company confirmed it had written to hoteliers after the letter had been reported in German newspaper Bild.
In the letter, Tui said it was entitled to pay in whatever currency was in use.
But the Greek Tourist Board said that no hotelier would agree to that.
Bild quoted the latter as saying: "If the euro should no longer be the currency... Tui is entitled to pay the sum of money in the new currency. The exchange rate shall be made at the exchange rate set by the government."
Tui spokesman Robin Zimmermann confirmed the letter had been sent to hoteliers, saying: "As a responsible company, we should protect ourselves for a potential exit of Greece from the eurozone."
But Andreas Andreadis, president of the Greek Tourist Board, told Bild that Tui could not pressure hoteliers into signing such a contract.
More than two million Germans travelled to Greece last year, making them the biggest group of visitors there.