Qantas offers thousands of free tickets as row apology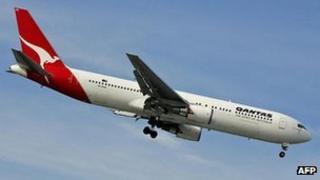 Qantas is to offer thousands of free tickets to passengers hit by its decision to halt all flights during an industrial dispute.
The suspension left travellers suddenly stranded in 22 cities around the world.
They will now be eligible for a free return economy flight within Australia or New Zealand, the company said.
On Friday the airline was again hit by reliability worries when a flight from Singapore to London was diverted to Dubai after an engine was shut down.
Friday's problem comes exactly one year after a mid-air engine blast forced an emergency landing of a Qantas A380 jet in Singapore.
That emergency landing resulted in Qantas grounding its entire fleet of A380 aircraft, each of which is powered by four Rolls Royce engines, for safety checks.
Free tickets
The free ticket offer will cost the embattled flag carrier around $20m (£12.5m) and will apply to return flights within Australia or New Zealand.
"This ticket offer is one of a range of initiatives we will be launching as a way of saying sorry as we move forward into this period of stability," said Qantas CEO Alan Joyce.
The offer was announced in full page adverts in national newspapers and will last for two years.
The airline had already offered to refund all "reasonable losses" for passengers affected by the stoppage.
Qantas said it would make further announcements shortly aimed at passengers from outside Australia and New Zealand and its frequent flyer customers.
Qantas resumed its flights last month after an independent tribunal ordered a permanent end to the industrial dispute with its union members.
Fair Work Australia issued a ruling after hearing evidence from the airline, unions and the government.
The airline and the union members have been involved in a dispute since August this year when the carrier announced a plan to restructure its operations and outsource some of the services.