Riots: Shopkeepers returning to the scene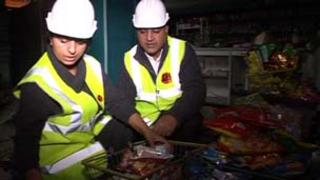 Amrit and Ravi Khurmy recall the time, three months ago, when they watched in horror as youngsters ran out of their convenience store in Ealing, west London, with armfuls of goods before the building was set alight.
Mrs Khurmy held her husband back from defending the shop.
The damage caused to their store was so severe that the Khurmys have only just been allowed back to start a stock-check needed to evaluate the total loss to their business.
When they ventured inside, they found that the floor had collapsed, the ceiling melted, and all the stock ruined. The residential flats above the shop were also destroyed when the fire ripped through the upper two floors.
'Underinsured'
The Khurmys bought the shop leasehold three years ago. The seller organised insurance cover for the property through their broker.
They say they have not missed a premium and have had no problem with claiming on the policy in the past.
However, with the riot damage bill estimated to be £500,000, Mr Khurmy says that the insurance company has not made a single payment because they are underinsured.
"We were quite hopeful when they were coming in. We had a meeting with them but then we had a call at 8am and they cancelled," he says.
The family say they have been advised by police that they are unable to claim from the police under the 1886 Riot Damages Act until they have had a definitive response from their insurer.
The Metropolitan Police Authority has already received more than 3,844 claims in respect of losses suffered in London, amounting to more than £200m.
The authority is liable for damage to buildings and their contents caused during a riot. However, it does not compensate for loss of earnings.
Rebuilding
Insurers have been quick to defend their role in the rebuilding of looted homes and High Streets.
James Dalton, from the Association of British Insurers (ABI), says that there are several barriers to a quick resolution of claims.
"Insurers have done a pretty good job at processing claims as quickly and efficiently as possible," he says.
"There is always going to be a couple of claims that take longer and insurers are working with those customers to make sure they can get back on their feet."
The local council gave the couple an interest free loan of £20,000 to cope with initial bills but that money has now run out.
"By next week we will not have a single penny in our bank account. We just do not know how we are going to cope," Mrs Khurmy says.
Legal charity LawWorks says it was concerned about the lack of longer-term measures being put in place to assist victims.
The charity contacted City law firms for help, asking them both for funds to cover the cost of a full-time case worker, and a pledge to provide lawyers to assist riot victims.
Twelve firms agreed and eight declined. The result is Riot Help, a broker scheme that matches victims who cannot afford to pay for legal advice with lawyers working pro bono.
Case worker Maeve O'Sullivan, at LawWorks, says that many consequences of the riots are only now being felt.
"It is going to be over the next six to eight months that people's legal problems are going to expand and will need to be addressed. Even now there are insurance claims being rejected or victims getting into disputes," she says.
For now the Khurmy family can do nothing but lean on their local community for support. That leaves them with mixed feelings.
Mrs Khurmy says that the children she saw destroying her shop looked the same age as her daughter.
"I look at children at the school and I wonder whether it was them. I never thought something like this would happen in this area," she says.