Groupon shares jump 30% on debut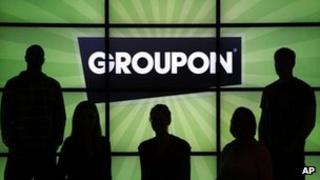 Shares in daily deals site Groupon have jumped more than 30% on the company's first day of trading in New York.
Groupon's shares were listed on the Nasdaq at $20 a share but closed at $26.11, having earlier risen to $29.95.
On Thursday, the company said it had sold 35 million shares for $20 each, raising $700m (£437m).
This valued the firm at $12.7bn, making it the second biggest internet company to make a market debut, behind Google, which was valued at $23.1bn in 2004.
Groupon had originally filed with the US Securities and Exchange Commission to sell 30 million shares for $16 to $18 each, but high demand led it to raise the price and number of shares for sale.
But the 35 million shares sold still represents only about 5% of the company.
Groupon offers coupons to its subscribers, which give them discount deals that are available that day only on anything from restaurant meals to spa treatments.