Compensation awarded but still nothing paid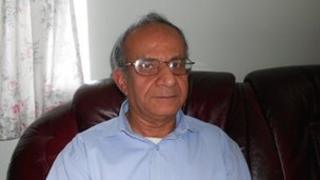 What can you do if the Financial Ombudsman finds in your favour but a firm refuses to pay?
Yusuf Walji from Cambridgeshire retired four years ago. He had worked as a machinist for the same firm for 34 years.
Investment decisions
With a pension payout from the company and his savings, he had a lump sum of £117,000 to live on. In March 2007 he approached a local independent financial adviser in Peterborough, a firm which described itself as Keith Williams Financial on its letterhead, to ask for guidance.
Mr Walji could not afford to risk his capital. His adviser recommended three different investment bonds, as he told Radio 4's Money Box programme: "I went to see Gerald Hall of Keith Williams Financial. I told them after one year I would have to withdraw income to supplement my pension. I just followed their advice."
The investment bonds paid Keith Williams Financial thousands of pounds in up-front commission and an ongoing annual trail commission of more than £1,000 as long as the bonds were held.
But when Mr Walji went to meet Mr Hall a year later, he discovered his investment had fallen significantly. This surprised Mr Walji as he had no idea his capital was at risk.
Claims payout
After two years, things were even worse and so he returned to speak to another adviser at the firm: "I was very very upset so I went to see Mark Owen. He said the same thing as Gerald Hall a year earlier, there is nothing to worry about, the market will pick up."
Mr Walji decided to complain to the Financial Ombudsman Service.
And in August last year, the ombudsman found in his favour - it ruled that he had been given unsuitable advice, and his money had been put into products which were too risky for someone in his position.
In December, Mark Owen from Keith Williams Financial wrote to Mr Walji offering him a full and final settlement of £12,800 and an acceptance form which Mr Walji returned.
However, once the form was returned Mr Owen changed his tune and said the firm would not pay compensation to Mr Walji, because he had been a client of Keith Williams Financial Limited, a different legal entity from Keith Williams Financial.
Legal wrangles
As that limited company had been dissolved in 2008, Keith Williams Financial refused to pay out.
Mr Walji was outraged and the Financial Ombudsman Service shared Mr Walji's anger.
Ombudsman Doug Mansell wrote to Mark Owen at Keith Williams Financial urging him to pay up:
"I have noted that the letter heading from when the advice was given, and in more recent correspondence, is the same. It seems that you have entered into a legally binding agreement with Mr Walji, and it is not clear from the comments you have made why you believe this should not be honoured.
"I believe you have waived any right to object to our jurisdiction. Further, I would question whether the approach taken by your business complies with the regulator's requirements to treat customers fairly."
Since sending that letter, the ombudsman seems to have accepted it can do no more to make Keith Williams Financial pay up, and so has passed the case to the Financial Services Compensation Scheme. The scheme is funded by the financial services industry as a whole when compensation is sought from firms which no longer exist. It says it hopes to make a decision within six months.
Enforcement limitations
David Cresswell from the ombudsman service said this was the best way for Mr Walji to now claim compensation: "Parliament said the ombudsman decides complaints. Parliament said we're not a law enforcer and so parliament didn't give us the powers to enforce."
Records at Companies House show that Keith Williams Financial Limited has indeed been dissolved.
But then as now, the firm refers to itself in its letter head as just "Keith Williams Financial", and today's company boasts it has been giving advice since 1998.
Liabilities denied
Money Box spoke to Mark Owen at Keith Williams Financial.
He did not want to give an interview but he sent the programme a statement: "Mr Walji was a client of Keith Williams Financial Ltd, not Keith Williams Financial.
"It is my belief that as Keith Williams Financial Ltd are no longer trading the Financial Services Ombudsman has referred Mr Walji's claim for compensation to the Financial Services Compensation Scheme."
Mr Owen also insisted that Gerald Hall, who had given Mr Walji the disputed advice, did not work for him but was a "self employed entity."
But his firm's website says it has recently been joined by Gerald Hall.
And Gerald Hall is on the FSA's register as working with Keith Williams Financial.
The Financial Services Authority says it has moved to tighten regulations regarding firms which change their structure, but it is unclear if this would have benefited Mr Walji.
BBC Radio 4's Money Box is broadcast on Saturdays at 12:00 GMT and repeated on Sundays at 21:00 GMT.