Jon Corzine steps down from troubled broker MF Global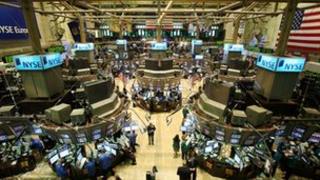 The chief executive of troubled brokerage MF Global, Jon Corzine, has stepped down from the firm after it entered Chapter 11 bankruptcy.
The company revealed £4bn of eurozone debt exposure last week and had its shares suspended before applying for bankruptcy protection on Monday.
JPMorgan Chase and Deutsche Bank are the firm's two biggest creditors, owed more than $2bn between them.
MF Global said Mr Corzine had waived a $12.1m severance package.
On Tuesday, it emerged that MF Global did not separate its customers' money from its own funds, according to the Commodity Futures Trading Commission and CME Group, which runs the Chicago Mercantile Exchange.
By law, brokers have to keep their customers' money separate from other customers' money and from the company's own funds.
Mr Corzine, who took over as chief executive of MF Global last year, made big bets on sovereign bonds issued by European countries, it is believed.
The unsteady future of the eurozone meant investors downgraded the firm's prospects.
Chapter 11 postpones a US company's obligations to its creditors, giving it time to reorganise its debts or sell parts of the business.