HSBC and First Direct online and ATM services hit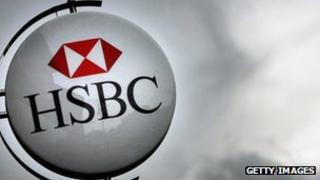 HSBC online banking services and some of the bank's ATMs were not working for more than two hours at one of the busiest times of the week.
The bank said that a server fault started at 14:45 GMT but was being restored on a phased basis at 17:00.
Some payments on debit cards in stores were also affected, and the bank has apologised.
The glitch is the latest in a series of computer problems to hit banks' IT systems.
HSBC's customer services team has been responding to worried customers on Twitter explaining that there had been a problem and it was "working to resolve it quickly".
A spokesman for the bank said he was confident there was no security risk to customers' accounts as a result of the glitch. He said anyone who was concerned could talk to staff in their branch.
Customers using the website of First Direct, which is part of the HSBC group, have also been reporting problems accessing their accounts. The bank said it had suffered a "similar problem".
Weekend spending
The ATM problems potentially affected many thousands of people preparing to spend cash over the next few days.
Friday lunchtimes are commonly the most popular time of the week for cash machine use, with consumers preparing for weekend spending.
HSBC had a total of 3,789 cash machines on the UK's Link network at the last count in June.
However, the bank could not say how many of these have been affected.
Customers with other banks were unable to use HSBC ATMs, and HSBC cardholders could not use other banks' cash machines.
Some customers have been telling the BBC News website of the problems they faced when the system went down.
Andy Betts, from Luton, had to leave his shopping behind after his HSBC debit card failed.
"It is my sister's 21st birthday and I went out to buy food and decorations for a party that my family is arranging for her," he said.
"When I went to the cash till, my HSBC debit card was declined, and I noticed that other customers had similar problems with their cards.
"I had to leave £250 worth of shopping behind."