Commerzbank reports loss after Greek debt writedown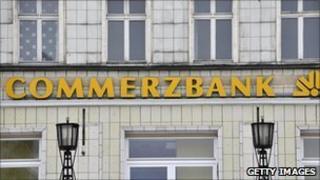 Commerzbank has reported a loss for the July-to-September quarter after taking further writedowns on Greek debt.
Germany's second largest bank reported a third-quarter net loss of 687m euros ($949m, £593m), compared with a 113m-euro profit a year ago.
The bank - which is 25%-owned by the German government - took a 798m-euro hit on its Greek assets.
Commerzbank also said that it would cut back its lending in the eurozone as it tries to hit new capital requirements.
As part of the deal agreed by politicians in Brussels last month, banks will have to accept losses of 50% on their holdings from Greece and banks will also have to take on more capital to protect themselves from any future defaults.
Commerzbank is heavily exposed to Greek debt, as are French banks.
"With a view to the ongoing uncertainty regarding Greece's financial solvency and with regard to the EU summit on October 26, the positions held by the bank were depreciated by 52% of their nominal value," the bank said.
On Thursday, France's biggest bank BNP Paribas revealed a 72% drop in profits, to to 541m euros, after cutting its exposure to sovereign debt.
Franco-Belgian bank Dexia and US broker MF Global have both collapsed in the past month due to exposure to the crisis.