Groupon share sale raises more than expected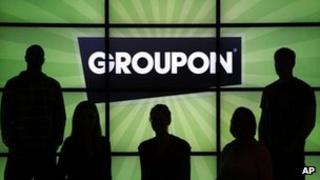 The sale of shares in Groupon has raised $700m (£437m) after the public offering was priced higher than had been expected.
Shares in the company were originally priced in a range of $16 to $18 a share, but were eventually sold at $20.
It values the business at almost $13bn.
Groupon offers coupons to its subscribers, which give them discount deals that are available that day only on anything from restaurant meals to spa treatments.
Groupon increased the number of shares it was selling to 35 million shares from 30 million shares, but that was still only about 5% of the company.
The shares will begin trading on the Nasdaq stock exchange later on Friday.
Groupon's $12.7bn valuation makes it the second biggest internet company to make a market debut, behind Google, which was valued at $23.1bn in 2004.
But some analysts have suggested that the high valuation has only been achieved because such a small proportion of the company has been sold.
"Groupon is expensive. The valuation is only achievable because of the low float," said Rob Romero, head of technology-focused hedge fund firm Connective Capital Management.
There have also been concerns that Groupon is vulnerable to competition from, for example, the soon-to-launch Google Offers.