Stephen Fry on Qantas flight grounded by engine issues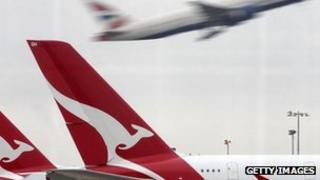 A Qantas flight from Singapore to London - whose passengers included the writer Stephen Fry - has been diverted to Dubai after an engine was shut down.
The flight was QF31 and had 258 passengers on board, with four pilots and 21 cabin crew, Qantas said.
The plane is an Airbus A380 superjumbo and engine number four suffered "an engine oil defect", a spokeswoman said.
In a series of colourful Twitter updates, Mr Fry was very angry about having left his wallet on the plane.
"I should in all conscience add that staff are being wonderful and that morale is high and the passengers understanding and cheerful," he added.
Friday's problem comes exactly one year after a mid-air engine blast forced an emergency landing of a Qantas A380 jet in Singapore.
Last year's emergency landing resulted in Qantas grounding its entire fleet of A380 aircraft, each of which is powered by four Rolls Royce engines, for safety checks.
A Qantas spokeswoman told the BBC that the two incidents were unrelated.
She added that the company currently had engineers on the ground assessing what caused Friday's shut down.
Growing troubles
The incident is the latest in a long line of problems for Qantas.
It has been involved in a labour dispute with workers, which saw the company ground its entire fleet of aircraft earlier this week. The company has been asked by the Australian Competition and Consumer Commission to compensate passengers affected by the grounding.
At the same time, the company has seen its earnings come under pressure.
Its international operations are losing about 200m Australian dollars ($207m; £130m) a year due to higher fuel prices, wages and a stronger Australian dollar.
It has also been hurt by a number of natural disasters in some of its biggest and most profitable markets.
Floods and cyclones in Australia and a devastating earthquake in New Zealand earlier this year saw a number of its flights in the region being cancelled.
That was followed by an earthquake and tsunami in Japan, which resulted in further losses for the airline.
Earlier this year, the carrier said it expected the disasters to cost it as much as $140m. It also claimed that the grounding of A380 aircraft last year hurt its income by $80m.