Georgia signs trade deal opening Russia's way to WTO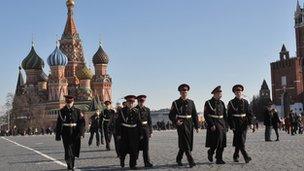 Georgia and Russia have signed an historic trade deal which allows Russia to join the World Trade Organization (WTO).
The deal, which follows 18 years of negotiations, was brokered by Switzerland.
Georgia has repeatedly blocked Russia's WTO entry since the two countries fought a short war in 2008.
The deal hinges on international monitoring of trade along the mutual borders of Abkhazia and South Ossetia.
The two provinces have broken away from Georgia and are recognised as independent states by Russia.
"It's our diplomatic victory," said Georgian President Mikheil Saakashvili.
"What we have achieved today is a very important acknowledgement of what Georgia's customs borders are," he agreed.
Russia is the last major economy that has yet to join the WTO, after China's accession in 2001.
Russian President Dmitry Medvedev said he hoped Russia would now be accepted by the end of the year.