US factory orders rise as business investment jumps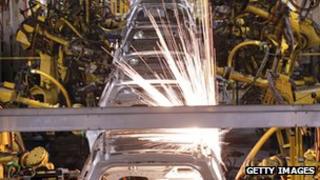 US factory orders rose in September after business investment jumped by its highest amount in six months.
Total factory orders increased for a third straight month, rising by 0.3%, according to the latest figures.
Demand for core capital goods, seen as a bellwether for business investment spending, jumped 2.5%.
This rise - which was driven by strong demand for machinery and computers - represented the largest increase since a 5.4% rise in March.
The report on factory orders covers durable goods, items expected to last at least three years, and non-durable goods, which includes products such as paper, chemicals and clothing.
Orders for durable goods fell 0.6%, while orders for non-durable goods such as petrol, chemicals, food and paper, rose 1% in September after no gain in August.
The data comes after Wednesday's announcement that the US Federal Reserve had cut its forecast for US growth and upped its expectation for unemployment next year.
The US economy is expected to grow only 1.6%-1.7% this year, and 2.5%-2.9% next - about one percentage point lower than previous estimates. The jobless rate is expected to stay at 9.1% this year.
The Fed anticipates unemployment falling only to 8.5%-8.7% next year. It had previously expected a fall to 7.8%.