Have daily deal sites like Groupon had their day?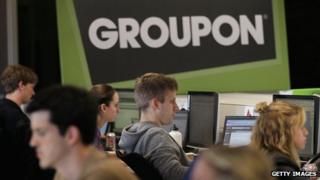 "Save £561 on laser hair removal. Eighty per cent off teeth whitening treatment. Sixty-three per cent off a bespoke suit."
Massive, almost unbelievable discounts - and keen shoppers have signed up in their millions.
Such outlandish discounts can only be offered by daily deal websites, companies which operate on a simple principle of offering massive discounts to a set number of customers every day.
For the businesses involved, it means instant access to a huge email database - leading to a sudden rush of new customers and the hope of retained custom.
And for the daily deal site itself? A massive cut of the revenue, often in the range of 50%.
King of the daily deal sites - by market share at least - is US-based Groupon, which has amassed well over 100 million users across the world since launching in Chicago in 2008.
Others, like LivingSocial and KGB Deals, are sneaking up behind, taking a smaller, but by no means insignificant, slice of daily deal pie.
And waiting, like a coiled spring, is Google Offers - a grouping of many popular deal sites hoping to capitalise on Google's massive advertising and email reach.
Groupon and on
Groupon is described by Forbes magazine as the "fastest growing company ever", an accolade strong enough to allow chief executive Andrew Mason to brush aside a buyout offer from Google in 2010 reported to have been in the region of $6bn.
Last month, the company hit the road in an attempt to build investor interest in its initial public offering (IPO) - or stock market flotation - on the Nasdaq stock exchange.
It's been a rocky ride for the firm which has twice had its knuckles rapped by the US Securities and Exchange Commission for producing misleading figures.
The numbers - which at first were found to have understated operating losses by $120m, and later to have inflated revenue by $400m - sent jitters through investors, forcing Groupon to offer a discount deal of its own by cutting the company's IPO value by almost half.
Yet even with the decreased figures, Groupon still stands to raise $540m for just a 5% offering, valuing the entire business around the $10bn mark - an arguably staggering amount for a business that is yet to come close to turning a profit.
The financial fuzziness will soon be forgotten should Groupon continue its rapid rise to the top and continue building its client and subscriber base.
Mr Mason believes that operating costs for the company will get smaller as more and more businesses get on board.
But there are many offering real concerns that the daily deal model is already heading for serious trouble - and that businesses are deserting it rapidly.
'Disaster'
No daily deal critics are perhaps more outspoken than Peter Shankman, a New York-based investor in several successful internet companies and an expert in marketing strategy.
"Groupon scares the living hell out of me," he told BBC News.
"How do you sustain a model where on average the customer, not the person who buys the coupon but the business itself, loses money?
"You get companies that don't know any better, they lose 10 grand, and they don't come back."
Among business owners, this is a common concern.
Massive, loss-making deals have been part of marketing strategies for many a year - but always with the underlying hope that once a customer is "in", they may stick around and buy something else or, at the very least, come back again another time.
There is also the chance to upsell - that is, offer extra services on top of the voucher-specific deal to turn a loss-making offer into a positive one.
But for business owners like London-based Hannah Jackson-Matombe, this just simply isn't happening.
"It's been a disaster for us. We will never do a Groupon deal again," she told BBC News.
"They're dangling a carrot that's practically irresistible if you're a new business and you're desperate to get out there."
Her company, Spotless Organic, offered an oven cleaning service for £19, down from its usual price of £99. Three hundred people purchased a coupon, of which so far around 150 have taken up the offer.
Under its terms, Groupon (like most other deal sites) keeps the revenue from unclaimed vouchers unless the buyer requests a refund.
Of the ones that do get claimed, the money made is split 50-50 between Groupon and the business.
"Their approach is to get you excited about the coverage," Ms Jackson-Matombe said.
"They say they're going to get you 300 more customers. You're going to be able to upsell your business. But if you're suddenly inundated, you have no chance to upsell anything.
"You basically work for Groupon, delivering something that only they benefit from."
She estimated that, on average, she lost £35 on each of the 150 or so oven scrubs performed so far - with next to no return custom.
"We've had very good feedback from customers on the whole. But if you're paid £20 for a service that would normally cost £99, you wouldn't do it - I wouldn't do it!"
Breaking even
But supporters of daily deals sites would argue that these promotions are all about getting as many people through the door as possible - and it works.
Art Harris is the owner of Pizz'A Chicago in Santa Clara, California. He recently set up a deal on LivingSocial offering a $20 voucher for $10. About 750 people took him up on the offer - and it's going well.
"A lot of people are spending more than the $20," he said, adding that he was just about breaking even on the deal, and had had several customers return.
"I'm happy with the results. This is something to get people in the door."
But even with pizzas flying out of his ovens, and money filling the till, Mr Harris says that even he is unlikely to use the same approach again.
"I wouldn't do this on a regular basis. I'm not sure I would do it again. I've got some buddies who have owned pizza restaurants - their experiences have been so-so. It costs a lot of money to do it, and you get people that are just bottom-feeders."
Groupon declined to give an interview to the BBC for this article, but in an email a spokesperson said it was "difficult to give an accurate figure" for how many businesses are repeat users of the site.
'Informally resolved'
Companies also worry that the loyalty potentially prompted by a good coupon experience is diluted when coming through daily deal sites.
The real loyalty, they argue, is with the deal website - not the brand offering the product or service. Some even said that they felt brands become practically "anonymous" when doing business via daily deal sites.
Even worse, poor coupon experiences - lack of supply, appointment availability and so on - are leading to a wave of negative publicity hitting a business online when massive demands can't be met.
In a number of cases, disagreements over deals has led to official complaints being made and upheld.
In January 2011, Groupon blamed "new employees" for a "drafting error" which led to the Advertising Standards Authority in the UK upholding a complaint over misleading descriptions regarding a "60% off" dinner deal.
The company promised not to display the advert again in its incorrect form. However, since March 2011, a further seven complaints over advertising standards have been upheld.
They range from incorrect descriptions to complaints of exaggerating the true value of the discount.
In addition to this, a further 25 complaints against Groupon have been made and "informally resolved" - a status given to complaints that were dealt with but not made public.
LivingSocial has had 11 informally resolved cases, while KGB Deals has had five.
Groupon told the BBC that they have hired a former ASA employee to monitor standards, and that "regular updates are also disseminated, along with training, to the editorial team to ensure they are kept up to date with our compliance requirements".
Downward spiral
As Groupon makes its way onto the stock exchange, the next few months will give some indicator as to what the future holds for daily deals.
It is possible - some would say probable - that competitors with already bigger and more loyal client bases could move in on Groupon's territory and, since daily deals is simply a concept rather than a product, quickly push them off the scene.
"The major online retailers are creating their own flash-sale sites to sell off stock, and many retailers are now offering time or volume-limited sales either on their own sites, or via social networks such as Twitter and Facebook," concludes Patrick O'Brien, a retail analyst for Verdict Research.
"This trend is likely to continue, making the proposition of third-party daily deal sites less exclusive and making it harder for them to source compelling deals."
If, as some investment specialists predict, backers simply "flip" their investment - sell straight away and profit on the initial buzz - it could start a downward spiral and something akin to the burst dotcom bubble all over again.
"I don't care how great the buzz is, just show me one [chief executive] in this world who prefers buzz to revenue," investor Mr Shankman says.
"It scares me for Groupon to be worth $11bn. Are we really back there?"