BNP Paribas profits steep fall on sovereign debt losses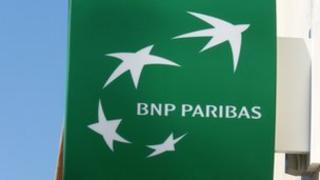 BNP Paribas, France's biggest listed bank, has revealed a 72% drop in profits after cutting its exposure to sovereign debt.
The company announced a 71.6% drop in profits to 541m euros (£466m; $746m) in the third quarter of 2011 - well below analysts' expectations of 991m euros.
BNP wrote down 60%, or 2.26bn euros, of its sovereign exposure to the crisis-hit Greek economy.
The move sent BNP Paribas shares up 7.5% by the end of trading on Thursday.
"Cautious attitude"
The bank also reduced its debt exposure to Italy - which the bank has always insisted had its debt crisis under control - by 8.3bn euros, or 40%, and to Spain by 2.2 billion euros, or 81.5%.
In the last five months, the bank has reduced its exposure to Greek, Irish and Portuguese sovereign debt by 38%. It held Greek sovereign bonds worth 1.6bn euros at 30 October, compared with 3.5bn euros at the end of June.
"BNP has taken a cautious attitude on Greek debt," said Marine Michel, a Paris-based fund manager at Montsegur Finance.
"Given the current developments, it's a bold move."