UK recession real threat, says NIESR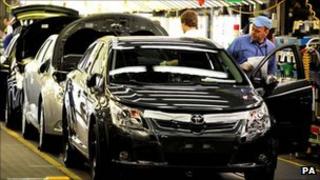 There is a strong chance the UK will fall back into recession even if eurozone leaders find a resolution to the debt crisis, a report suggests.
If a quick fix is found, the chance of recession is 50%, the National Institute for Economic and Social Research said. This rises to 70% if leaders continue to "muddle through".
Almost half of UK exports go to eurozone members.
G20 leaders are meeting later, with the eurozone debt crisis top of the agenda.
'Loosen policy'
NIESR said that whatever the outcome of the G20 meeting, the UK could well return to recession by the end of 2012.
"There is a weakness in demand from both consumers and investors, but the main downside risk is from the eurozone crisis," said the body's director, Jonathan Portes.
He called on the government to rethink its policy of tough spending cuts in light of weak demand.
"The impact of the government's tough fiscal policy has been negative. Going forwards, they should loosen policy moderately to help growth," he said.
Figures released this week showed the economy grew by 0.5% between July and September.
However, a number of economists said this figure represented a rebound from the previous quarter, when growth was 0.1%, and did not indicate a strengthening in the underlying economy.
NIESR said it expects the economy to grow by 0.9% in 2011 and by 0.8% next year.