Mobile phone firm Everything Everywhere cuts 550 staff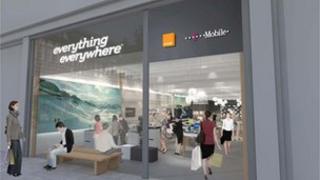 Everything Everywhere, the mobile phone group formed by the merger of Orange and T-Mobile in the UK, is to cut 550 back office staff.
Staff at its sites in Hatfield, Paddington, Bristol and Darlington will be affected.
The cuts take effect on 1 February, according to the Communications Workers Union (CWU).
The firm says the job losses will affect 4% of company staff and of this 4%, around 20% will be contractors.
In a statement, the firm said: "Following a review of its business, Everything Everywhere has announced proposed organisational changes to support the company as it transitions from integrating two businesses to a new phase focussed on accelerating the delivery of the company ambition."
"As a result of the proposed new structure, regrettably, approximately 550 head office and support roles, or 4% of the company, will leave the organisation over the coming months.
"The proposed reductions will come mainly from the head office functions and will not impact customer-facing teams.
"The new structure will help the company become more agile and ensure it is keeping in touch with customers' needs."
Everything Everywhere is a 50-50 joint venture between Deutsche Telekom and France Telecom and was formed in 2010 through the merger of their respective T-Mobile (UK) and Orange UK businesses.
CWU deputy general secretary Andy Kerr said: "This is disappointing news and will be very difficult for staff now facing redundancy.
"We predicted large job losses when the merger was announced and redundancies in support roles will not come as a great shock to most staff, but that doesn't make it any easier for those people affected.
"Staff are having to pay a massive price for the year old merger of Orange and T Mobile."