Time Warner profits lifted by Harry Potter magic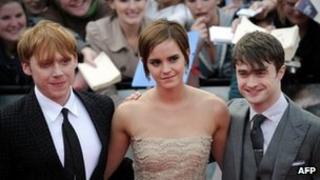 Time Warner's third quarter net income has risen 57% from a year earlier to $822m (£514m), exceeding market predictions.
The US entertainment giant credited Harry Potter and the Deathly Hallows: Part 2 for some of its success. The film grossed $1.3bn at the box office.
Time Warner's cable division also did well, with subscriptions up by 6% and advertising sales rising 9% to $74m.
However, revenues at its publishing arm were down 1%.
Chief executive Jeff Bewkes said: "Our results demonstrate the success of Time Warner's focus on investing in great content that audiences love and leading the evolution of how it's delivered."
Time Warner's group-wide revenues for the three months to 30 September rose 11% to $7.1bn.