Nissan raises earnings forecast on higher sales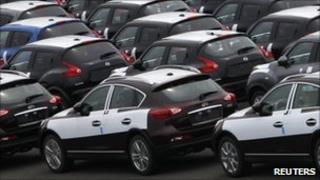 Japanese carmaker Nissan has reported a dip in quarterly profits but increased its full-year earnings forecast.
Its second quarter net profit of 98.4bn yen was down 3.3% from a year ago.
But Nissan now expects annual net profits of 290bn yen ($3.7bn; £2.3bn), up from a previous forecast of 270bn yen, thanks to higher sales.
Chief executive Carlos Ghosn said the firm was on track to deliver "a significantly profitable full-year performance".
The flooding in Thailand, which has affected the plants of carmakers and suppliers, appears to have hit Nissan less than than its rivals.
The floods have affected Nissan's suppliers, but the company said it would aim to restart production in Thailand on 14 November.
It also said that the impact of the flooding should not affect its production in the US, Europe or China.
Mazda woes
However, rival Japanese carmaker Mazda has reported very differing fortunes.
The company reported a loss of 14.4bn yen for the three months to the end of September, which is Mazda's fourth straight quarterly loss.
Mazda is now forecasting a 19bn yen loss for the year to March 2012 instead of its original projection of 1bn yen profit.
The company said it sold 604,000 vehicles in the last quarter, down 8.3%. Sales were down in Japan, Europe and China.
The Hiroshima-based firm said it was struggling with a strong yen, slower Asian growth, a weak US recovery and the euro debt crisis.