Public sector pensions: a new offer?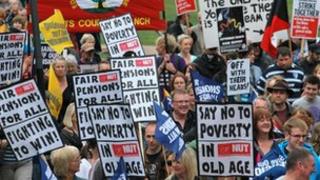 In the face of a huge national strike by public sector unions the government stepped back.
A wholesale switchover, to new career average pension schemes, which would have affected several million public employees, has been diluted.
Anyone who, on 1 April 2012, is within 10 years of their normal retirement age, will not be put into the new schemes at all. They can stay where they are.
That means an estimated one million current employees will retire under their current, mainly final-salary, pension arrangements before the new ones come in.
Dissuade strikers?
The 2015 target date for the new career average schemes still remains for new recruits, and also anyone in post who is more than 10 years from normal pension age.
What is also not changing is the government's desire to bring in higher pension contributions from all staff who earn more than £15,000 a year.
These higher contributions are still due to be phased in over three years from April 2012, amounting to an average 3.2 percentage points more in each employee's contribution rate (but just 1.5 percentage points in the local government scheme).
To date, those increases are what has upset public sector trade unions most.
Now staff have important new elements of the government's plans to digest.
Improved deal
As revealed by the BBC, a fundamental feature of the proposed career average schemes was to have been an annual accrual rate of 1/65th.
That meant 1/65th of each person's annual pensionable salary would have been put aside in a notional pension pot each year, and then been uprated in line with average annual earnings until retirement.
The government is now proposing that this accrual rate - vital to judging the worth of such schemes - should now be more generous at 1/60th of annual earnings.
That makes the new accrual rate about 8% more generous than the one first put forward.
That does not make the entire package worth 8% more though, as the overall value of these schemes involves other factors, such as retirement ages, early retirement terms, contribution rates and so on.
Higher cost
It now appears that the main features of the new schemes will be as follows:
The higher pension contributions now being asked of public sector staff in their mainly final-salary pensions - averaging an extra 3.2% of their salaries over the next three years - will carry over to the new schemes. Contributions will be less for lower earners.
The standard accrual rate will be 1/60th.
The revaluation of pension entitlement each year during accrual will be in line with a measure of average earnings, to protect pensions from inflation as they are being built up.
The normal pension age will still rise in line with the state pension age (SPA), which will increase from 65 to 66 by 2020, and to 67 by 2027 as life expectancy increases.
Pensions in payment will be inflation-proofed, rising in line with the consumer prices index (CPI). Benefits under the current schemes were previously linked to the Retail Prices Index (RPI) but with effect from April 2011 they changed to using CPI. This change is currently being challenged in the courts by trade unions.
To pay for the improved offer, the government has said it will now allow the overall costs of the schemes to rise from 17%-21% of the overall pay bill to between 20% and 22.5%.
In this overall mix, most of the increased cost for the big NHS, civil service, teachers' schemes is going to be borne by the employers.
The one exception is the local government scheme.
Here, employer contributions will be 10.9% instead of 9.3% as first envisaged.
But staff contributions will now amount to 9.5% of salary, up from the average rate of 8% that was first suggested by the government.
All this means inevitably that some of the hoped-for savings the government wanted to achieve will not not happen, and will be delayed in any case.
The government says some staff will end up with higher pensions than they could otherwise have earned.
But it still makes no bones about the fact that this will be a product of paying more in, and working longer.