Lloyds' boss flunks stress test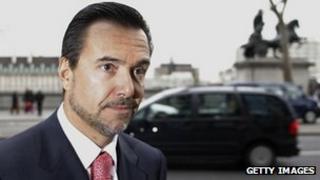 Antonio Horta-Osorio has been told by his doctors that he is physically and mentally exhausted, as a result of the way he has immersed himself in running Lloyds Banking Group.
He has been ordered by them to stand down as the semi-nationalised bank's chief executive for at least six to eight weeks - and that decision is expected to be ratified by Lloyds' board this morning.
He'll be replaced temporarily by Tim Tookey, the group's finance director - who, as bad luck would have it, is due to leave in February, for a top job in the insurance industry.
The big question is whether Mr Horta-Osorio will ever come back. A colleague of his said that he was becoming more and more tired, and his doctors ordered him to take a break.
The issue for him and his family is whether he is capable of doing the Lloyds job in a way that reduces the stresses and pressures on himself.
His temporary departure comes at a big moment for the bank - which is committed to decide by Christmas what to do with more than 600 branches and significant loans and deposits that it has been ordered by the European competition authorities to sell.
A Lloyds executive said he thought Mr Horta-Osorio would now take no part in that decision - which has been made more difficult by the collapse in bank share prices.
Lloyds has received just one takeover bid for this carved-out bank, which goes by the name of Verde. That bid is from the newly created NBNK.
The bank also has the option of trying to float the bank on the stock market, but right now either a sale to NBNK or a flotation would generate massive losses of around £2bn for Lloyds' shareholders - because the selling price of around £1.5bn would be significantly below the £3.6bn value of its capital.
So Lloyds is examining the possibility of simply giving Verde to existing Lloyds shareholders, of demerging it, because if the shares in Verde were a gift, there would be no detriment to Lloyds' owners from spinning out Verde in that way.
The problem is that the government would retain a 41% stake in Verde, in line with its existing 41% holding in Lloyds itself, and that would be contrary to the European Commission's stipulation that there must be no taxpayer stake in Verde.
That said, Lloyds may be able to persuade the European Commission to amend the disposal terms so that the government could retain a minority stake in a demerged Verde until market conditions were to make it possible to sell the stake.
Update 0934: For the avoidance of doubt, and as I said on Twitter, I would never trivialise stress - and I do not believe the punning headline on this post does that.