Lloyds bank chief executive to take medical leave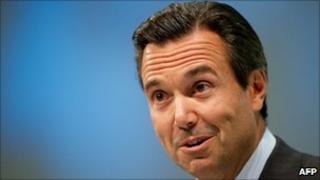 Shares in Lloyds Banking Group's fell almost 4% on Wednesday after the company said chief executive Antonio Horta-Osorio is to take medical leave.
Tim Tookey, finance director, was appointed interim replacement following a board meeting on Wednesday.
In a statement, Lloyds said Mr Horta-Osorio "is expected to return to his position before the end of the year".
He became chief executive in March and has been rebuilding the bank after its near-collapse in the financial crisis.
The company's statement said: "The board of Lloyds Banking Group announces that following medical advice Antonio Horta-Osorio is taking a temporary leave of absence from his duties as group chief executive of the bank due to illness.
"Antonio is expected to return to his position before the end of the year. The Board is meeting later this morning to agree interim arrangements which will be announced in due course."
Lloyds shares ended at 29.4p, down 3.77% on Wednesday.
Mr Tookey is due to leave Lloyds in February after handing in his resignation over the summer.
Lloyds is 41%-owned by the UK government after being bailed out following the takeover of troubled rival HBOS in 2008.
BBC business editor Robert Peston said: "The big question is whether Mr Horta-Osorio will ever come back.
"The issue for him and his family is whether he is capable of doing the Lloyds job in a way that reduces the stresses and pressures on himself."
Mr Horta-Osorio, 47, has made a series of high-profile management and strategic changes since March.
"Investors thought that Horta-Osorio had the right strategy to turn Lloyds around," said SVM Asset Management fund manager Colin McLean.
"However, investors would be reassured if his leave proves to be only a temporary and brief one," he added.