Bailout money withheld from Greece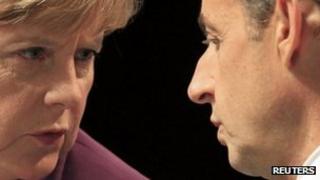 The next 8bn euros of rescue loans will be withheld from Greece until after its referendum on the eurozone rescue plan, European leaders say.
French President Nicolas Sarkozy said it could be held on 4 or 5 December.
German Chancellor Angela Merkel said the vote was over whether Greece wanted to stay in the eurozone.
Greek PM George Papandreou was summoned for crisis talks ahead of the G20 summit in Cannes to explain his surprise decision to call a referendum.
The move caused market turmoil on Tuesday, and had not been agreed with other European leaders.
The two-day meeting in Cannes of government heads from the Group of 20 major world economies formally begins on Thursday.
Greek choice
The French and German leaders earlier called on Mr Papandreou to stick to his commitments, and decide if Greece will stay in the euro.
Mr Papandreou confirmed after the talks that the referendum was effectively a decision on whether to stay within the single currency.
"I do believe there is a wide consensus among the Greek people... and the Greek people will speak soon," he said.
However, there is widespread anger in Greece at the further harsh spending cuts that are being demanded by Greece's lenders as part of the new bailout agreement.
Many economists fear that if Greece were to exit the euro, it could lead to financial contagion, as investors and ordinary bank depositors in other eurozone countries may fear that their own government will follow suit.
The latest bailout money was originally agreed for release in the middle of November.
The Greek government has previously stated that it would run out of cash before then to fund its spending, but Mr Papandreou played down this risk.
The prime minister added that the government's next task was to win a confidence vote in the Greek parliament on Friday.
One MP quit the ruling Pasok party on Wednesday, reducing its majority to just two, while several others have called on Mr Papandreou to quit.
Italy in trouble
The deal agreed with Athens last week is a key part of a wider strategy to bolster banks and to increase Europe's financial rescue fund in order to help bigger countries such as Italy.
But there is now concern that the action plan may unravel.
The Italian cabinet agreed new austerity measures demanded by other European governments at an emergency meeting on Wednesday evening.
Italy, which has hundreds of billions of euros in debts coming due for repayment over the next 12 months, is finding it increasingly difficult to reborrow the money in international financial markets.
The country's one-year cost of borrowing has risen to 5.1%, its highest since joining the euro, and far above the mere 0.3% interest rate that Germany must pay.
Mr Sarkozy said that plans to boost the eurozone bailout fund's lending capacity to 1tn euros would be accelerated.
The move is aimed at supporting Italy and Spain, though many economists say that even 1tn euros is too little to do the job.
There will also now be an unscheduled mini-summit of the G20 leaders from the eurozone - France, Germany, Italy and Spain - on the sidelines on Thursday.
'Political embarrassment'
Concern about the situation has spread beyond Europe.
Speaking before he travels to France, Indian Prime Minister Manmohan Singh said "much more needs to be done" to restore investor confidence in the eurozone.
That sentiment was echoed by US President Barack Obama's spokesman, Jay Carney.
Crisis jargon buster
Use the dropdown for easy-to-understand explanations of key financial terms:
AAA-rating
The best credit rating that can be given to a borrower's debts, indicating that the risk of borrowing defaulting is minuscule.
He said: "[The Europeans] need to implement the very important decisions they made last week to provide a conclusive resolution to it."
China's official Xinhua news agency called on EU leaders to persuade Greece to "drop the referendum idea" or help them find a "better solution to their political embarrassment".
Meanwhile, banks have called on the European Central Bank to cut interest rates to boost growth, and to support Italy and other heavily-indebted governments.
"It is essential that all parties come together behind the continued active role of the ECB in the secondary government bond market," said Charles Dallara, head of the Institute of International Finance (IIF), which represents major global banks.
Two German members of the ECB resigned earlier this year in opposition at its policy of buying up Italian and Spanish debts.
Last week, eurozone leaders agreed a 50% debt write-off for Greece as well as strengthening the eurozone bailout fund, the European Financial Stability Facility (EFSF), to 1trn euros ($1.4tn; £860bn).
The IIF has been co-ordinating the debt write-off, and Mr Dallara confirmed their commitment to the deal despite the Greek referendum.
Eurozone officials have been courting China, India and other emerging market nations to invest in the EFSF.
China, with its $3.2tn in foreign exchange reserves, is seen as the only developing economy with sufficient resources to make a sizeable contribution.
However, Deputy Finance Minister Zhu Guangyao said at Cannes that China would not consider investing in the EFSF until the situation with Greece was clarified.