US manufacturing growth slows to a crawl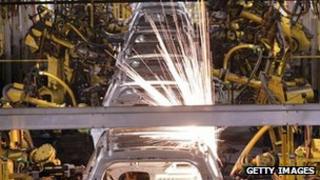 US manufacturing continued to expand in October, but growth slowed to a snail's pace, according to the latest monthly survey of the sector.
The ISM Manufacturing report registered a level of 50.8, down from 51.6 a month earlier. Levels above 50 imply growth.
It fell well short of market expectations for a reading of 52.
Factory activity has been subdued since July, according to the surveys, in contrast to the rapid expansion seen in 2010, when levels of 55-60 were common.
But the manufacturing sector has yet to start contracting, despite fears of a renewed recession.
More encouragingly, the latest survey suggested that factories were seeing growth in their new orders for the first time in three months.
Until now, factories have been running down their existing backlog of orders.
The survey also revealed that a drop in the price of inputs, such as metals and fuel, was reported by a majority of businesses for the first time since May 2009 - the middle of the last recession.
That suggests that the sharp fall in the price of commodities, particularly for industrial metals, seen on international markets since the summer is beginning to benefit US companies.
"The details don't look as bad as the headline," said Richard Dekaser, economist at consultancy firm, the Parthenon Group.
"More broadly, the deterioration in sentiment has led businesses to manage conservatively.
"You have the eurozone situation lurching from bad to worse. There is a bunker mentality. Businesses are keeping inventories lean."