Universal Credit timetable published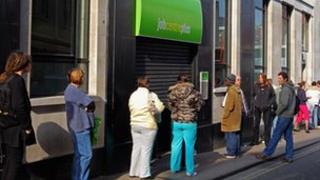 The timetable for the introduction of the new Universal Credit has been published by the government.
The credit will replace existing benefits such as Jobseeker's Allowance, Income Support and Housing Benefit.
It will be phased in from October 2013 and will cover 12 million claimants by 2017.
The plan for Universal Credit was first announced earlier this year as part of a radical simplification of the state welfare and benefits system.
Iain Duncan Smith, the Work and Pensions Secretary, said: "From October 2013 it will replace the current costly, outdated process with a digital system, which will be simpler to use and make work pay for hundreds of thousands of people across the UK."
"And today we have set out our migration plans which will see nearly 12 million working age benefit claimants migrate onto the new benefits system by 2017," he added.
The government says the new credit, run on a new computer system, will be much simpler for both staff and claimants to use and understand.
About 30% of the new computer system is now in place and has been tested on claimants who are either single or in couples, with testing on family claimants about to start.
Moving claimants from the old benefits to the new one will take place in three stages, spread over four years.
The process will cover new claims, natural changes and managed changes.
From October 2013 to April 2014 about half a million new claimants will receive Universal Credit instead of Jobseeker's Allowance, Employment Support Allowance, Housing Benefit, Working Tax Credit and Child Tax Credit.
At the same time, another half a million existing claimants and their families will be transferred to the new credit when their family circumstances change significantly, for instance if they get a job or have another child.
From April 2014 a further 3.5 million claimants and their families will move to Universal Credit.
And from the end of 2015 to the end of 2017 a further 3 million people will be moved over, focusing on Housing Benefit claimants