Credit Suisse to cut 1,500 more jobs after weak results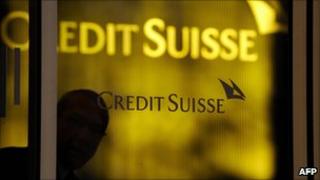 Swiss bank Credit Suisse has announced plans to cut another 1,500 jobs from its global workforce of 50,700.
The announcement came as the bank reported third quarter results, which its chief financial officer said were "below our expectations".
Net profits came in at 683m Swiss francs ($773m; £483m), although that was still 12% above the level in the same period last year.
The job cuts come on top of 2,000 announced in July.
Credit Suisse set aside 295m francs to settle a US tax probe and another 183m francs to settle a separate tax investigation in Germany.
There was a gloomy outlook from the bank's chief executive, Brady Dougan.
"We believe subdued economic growth and the low interest rate environment and increased regulation that we are seeing may persist for an extended period," he warned.
Shifting resources
Credit Suisse was not the only bank to announce cost-cutting measures and job losses.
Japanese investment bank Nomura said it was tripling its cost-cutting target to $1.2bn, while Denmark's Danske Bank said it would cut 2,000 jobs over the next three years.
Nomura's second-quarter results showed a loss of 46.1bn yen (£370m; $591m), its first loss in two-and-a-half years. That compared with a net profit of 1.1bn yen at the same time last year.
The Japanese banking giant estimated its exposure to European debt at $3.55bn and said Italy accounted for about 80% of that.
It said it would shift resources from Europe to more profitable areas in Asia and the US.
The Tokyo-based brokerage did not give details of job cuts, but its chief financial officer, Junko Nakagawa, said 60% of its cost savings would come from Europe, where it has 4,500 workers.
'Under pressure'
Danske announced a third-quarter pre-tax profit of 10m Danish krone (£1.2m; 1.3m euros), compared with a 1.87bn krone profit for the same period in 2010.
The bank made a net loss of 384m krone, as against a profit of 887m krone at the same time last year.
"Results are under pressure because of the financial crisis, new regulation and high funding costs," the Copenhagen-based group said in a statement.
"The group aims to reduce operating expenses by 10% from 2012 to 2014."
The Scandinavian bank is heavily exposed to Irish debt, especially property loans. It owns banks on both sides of the border: National Irish Bank in the Irish Republic and Northern Bank in Northern Ireland.
It said these accounted for 75% of its 2.8bn-krone loan impairment charges (money set aside to cover loans unlikely to be repaid) for the third quarter of 2011.
That figure was an improvement on the 3bn krone impairment charges for the same time last year and the figures for the full year were expected to be lower than in 2010.
Danske also announced it was looking for a new chief executive to replace Peter Staarup, who retires in the next few months.