Singapore airlines unveils new long-haul budget carrier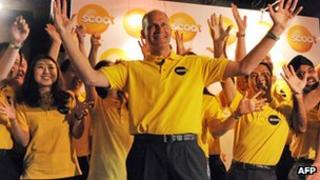 Singapore airlines has unveiled a new budget carrier in a bid to cater to growing demand for low-cost flying in the region.
Called 'Scoot', the carrier will begin flights in mid-2012 and cater to medium and long haul routes.
Asia's economic success has seen income levels rise in the region, boosting demand for air travel.
The International Air Transport Association has forecast air travel in Asia-Pacific to grow by 6.4% in 2011.
"Adhering to the low-frills spirit that has proven so popular in short haul arenas in Asia and around the world, Scoot will offer great value airfares up to 40% less than legacy carriers." the airline said in a statement.
'Five times faster'
Scoot is not the first time that SIA has entered the low-cost travel segment. It already operates a short haul low-cost carrier SilkAir in the region and is also a majority shareholder in budget airlines Tiger Airways.
Analysts said that the speed with which the sector was growing was a key factor behind SIA increasing its presence in the segment.
"What is happening in Asia is that budget airlines are growing at five times faster speed than budget airlines in Europe," Jonathan Galaviz, the chief economist at Galaviz and Company told the BBC.
"In that respect, Singapore Airlines wants to capture that growth," he added.
However, Scoot is likely to face competition from AirAsia X, the the long haul affiliate of Malaysian budget carrier AirAsia.
Big ambitions
The airline said it will launch its operations with flights to destinations in Asia, Australia and China in the first year, before expanding its operations to Europe, Africa and the Middle East.
The airline is planning to start its operations with four B777-200s, a wide-bodied aircraft, compared with other budget carriers who generally use narrow-body planes.
Analysts said Scoot's choice of aircraft indicates that it is confident of generating good passenger numbers.
"This means that the management Singapore Airlines, if they do indeed use these kind of aircraft, believe that they are going to have very high occupancy on these routes," said Mr Galaviz.
Mr Galaviz also added that SIA may look to replace some of the short haul routes of the premium airline with flights of the new low-cost carrier.