As Asia booms, what is cost of success for its young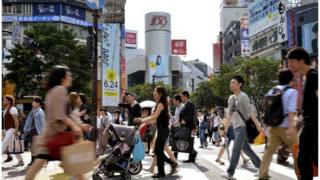 On a Saturday night in Singapore, Nicol and his friends are dancing in a dark and crowded room at one of the most expensive new clubs in the city.
As the music reaches a crescendo, the 25-year-old management consultant pumps his fists in the air.
For Nicol and others like him partying across the city and the region, it would seem that there has never been a better time to be young and in Asia.
Instead of the economic problems and social issues that faced their parents' and grandparents' generations, Asia's youth today have a chance to access a period of unprecedented prosperity and expansion.
"There are only some pockets of growth left in the world and Asia happens to be one of them," Nicol explains from the comfort of a table where patrons need to spend a minimum of 1,500 Singapore dollars ($1,183; £738) if they want to use it.
"There's opportunity and optimism out here. People are thinking big."
The figures would seem to back up this optimism.
Increased prosperity
Economic growth in East and South Asia is seen running at close to 7% over the next year, according to a United Nations (UN) report on economic prospects.
That easily outstrips the slower expansion expected in debt- and recession-hit Europe and US.
At the same time, for hundreds of millions of people across the region, their earning power and standard of living are increasing.
Wages rose by 8% across Asia in 2009, mostly driven by China, according to the International Labour Organization (ILO).
That compares with 0.6% growth in more developed countries during the same period.
The youth unemployment rate, meanwhile, has been below 15% in most of the region for the last five years.
Compare that with figures of more than 30% in European economies such as Italy and Spain, and it is clear that more young people in Asia are getting greater opportunities to work.
"There's been increasing prosperity," says Marco Roncarati of the UN's Economic and Social Commission for Asia and the Pacific.
"If you look at the last 20 to 30 years, we see that aggregate levels of development have improved."
This focus on youth employment is particularly important because Asia is the region with the most young people in the world.
According to UN figures, 62% of the world's 15- to 24-year-olds live in Asia. Put more simply, it means that almost two out of every three people in that age group are in this region.
In terms of total numbers, that meant there were 745 million young adults in Asia in 2010, according to a report by the UN Department of Social and Economic Affairs.
As a result, a number of countries in the region are experiencing a "youth bulge", where people between the ages of 15-24 make up the largest demographic segment of the population.
A look at the median age shows that the Philippines, Cambodia and Laos have some of the youngest people in Asia, with a median age of around 22.
That compares with a figure of almost 40 in the UK, according to the UN.
High expectations
But while many of the region's youth are experiencing greater success, this also brings its own set of problems.
Young Asians today expect a lot more from their lives, and often face pressures that were unfamiliar to earlier generations.
Noreen, 26, lives in Hong Kong and counts herself as lucky because she went to the UK for her undergraduate degree.
"I went to university, whereas my parents didn't," she says, adding that, as a result of her foreign studies, she has the tools to make a better life and achieve the "upward mobility" that eluded so many of her parents' generation.
However, Noreen also has goals in life that she is not sure she can achieve, given the rapidly rising cost of living, not least owning her own home.
"I'd like to move out before I'm 30. I'd want to start my own family, have more privacy," she says.
But "it's difficult to save money for a down payment in Hong Kong. It's too expensive", she adds.
Noreen is not alone, and this pattern is repeated across the more developed parts of Asia, such as Japan, China, South Korea and Singapore.
At the same time, frustration among the young is being stoked by the fact that while employment and spending power may be increasing as a whole, so is the competition for the jobs and resources that are on offer.
What this means is that even though they are making more money and are better qualified than before, for millions of young Asians, it is getting increasingly difficult to get ahead.
"It's universal, all young people want to succeed and they want to move upwards," says Noreen. "Any society or economy where there is no room to move upwards, young people get frustrated."
'Working poverty'
India is one country where the problems facing many of Asia's youth are brought into sharp focus.
It is home to 714 million people under the age of 30, and while times are improving for many of them, a widening wealth gap has created vastly different fortunes.
For 21-year-old Mohammad in Mumbai, Saturday night is not about nightclubs and having a good time.
So while many of his peers are downing drinks and dancing, Mohammad is busy pouring milk into containers, loading them onto his bicycle and delivering them to nearby restaurants.
Educated with the equivalent of a High School diploma, he has been doing the job for the past two years, earning as much as 5,000 rupees a month ($102; £64).
"I am in need, so I am doing this job," Mohammad explains. "Whatever I earn is not enough."
According to the ILO, South Asia and Sub-Saharan Africa are now home to the largest number of "working poor".
The term, as defined by the ILO, is a measure of people who work but live in households where total expenditure is less than $1.25 (£0.8) a day.
In its latest report on youth unemployment, the ILO says that in the least-developed regions the poor cannot afford to be unemployed for too long.
"They have to do something. They have to scrounge for food and therefore engage in some activity, but they are not fully employed," says Sarah Elder from the ILO.
While this type of work may help lower the unemployment figures, in reality it does little to improve the lives of many of the region's young.
"There are by far more young people around the world that are stuck in circumstances of working poverty than are without work or looking for work," the ILO claims.
Growing frustration?
Back at the nightclub in Singapore, the party continues for Nicol and his friends.
Even though he is enjoying the trapping of success, Nicol is clear about what needs to happen in the future if Asia's young are to keep buying into the region's sense of optimism.
"We are not seeing public anger because the fact that we are growing economically helps paper over that anger," he explains.
"When people are not getting raises, and real wages start to stagnate, that's when you'll see that anger come out."
The question now is how well governments can manage the expectations of Asia's new generation.
If they get it wrong, then they may find it an almost impossible task to ignore the frustrations of three quarters of a billion young people.
Additional reporting by Kinjal Pandya in Mumbai.