Italy ex-central banker Antonio Fazio convicted again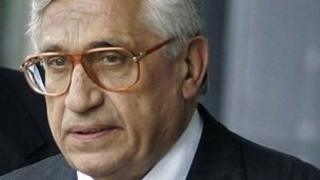 The former head of the Italian central bank, Antonio Fazio, has been sentenced to three and a half years in jail.
He was convicted of rigging the sale of Banca Nazionale del Lavoro (BNL) in 2005, by unfairly favouring an Italian buyer, insurer Unipol.
Unipol's former chairman, Giovanni Consorte, was also sentenced to jail.
It is the second time Fazio, who headed the Bank of Italy from 1993 to 2005, has been sentenced for blocking the foreign takeover of an Italian bank.
He also faces four years for a similarly biased intervention in the 2005 takeover battle for Banco Antonveneta.
However, as Fazio has yet to exhaust his last right of appeal, he is not yet required under Italian law to begin his jail term.
'Documents'
As governor of the Italian central bank, Fazio was responsible for oversight of the country's banking system.
European Union law bans national authorities from favouring buyers on the basis of their nationality.
Fazio was accused of unfairly impeding Spanish bank BBVA from buying up BNL. The Italian bank was later taken over by BNP Paribas of France instead.
"Mr Fazio cannot understand the reason for this verdict," said the ex-banker's lawyer. "There were documents that showed that what he did was right."
Fazio was forced to resign his position over the scandal.
He was succeeded as governor of the Bank of Italy by Mario Draghi, who is about to take over from Jean-Claude Trichet as president of the European Central Bank.