Junior Isa saving option launched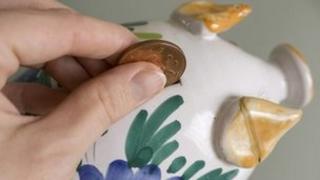 Tax-free savings accounts for children, known as Junior Isas, are now available from providers for the first time.
About six million children are estimated to be eligible for the products, which cannot be cashed until a youngster reaches the age of 18.
The system in effect replaces the Child Trust Fund, which had included a voucher from the government to kick-start the savings habit.
Analysts say many potential providers have yet to publish their rates.
"Some of the larger names in the savings market are keeping their Junior Isas under wraps for the time being, in anticipation of what their competitors may be launching," said a spokesman for financial information service Moneyfacts.
"It will be interesting to see what the big providers have to offer over the next few days as more products are launched."
Contributions
Family or friends can pay money into a child's Junior Isa, run by banks, building societies and investment groups, up to a total maximum annual contribution £3,600. This can be entirely in a cash savings Junior Isa, or an investment version made up of shares, bonds and investment funds, or split across both.
Children are currently limited in the amount of tax they can shield from HM Revenue and Customs (HMRC). Junior Isas are a way of side-stepping this limit.
Various providers have calculated that if parents invested a full allowance each year, they could accumulate savings of up to £100,000 by the time their child reached 18, based on growth of 5% a year.
The Treasury has estimated that six million children will be eligible for Junior Isas at launch, with 800,000 more eligible each year after that.
But some concerns have been raised about the scheme. The Institute for Public Policy Research (IPPR) said there was no longer the incentive of a voucher of at least £250 at birth from the government that was available under the Child Trust Fund.
"Labour failed to make Child Trust Funds popular or to persuade the public that they should be a permanent fixture in Britain, even in times of austerity," said Nick Pearce, IPPR director.
"Only time will tell whether the new Junior Isas are going to work, but because the government will not provide an initial voucher to kick-start the account, many low-to-middle earner families may not feel they can afford to open one."
Anna Sofat, director of Addidi Wealth, said some issues remained for those who had Child Trust Funds.
"The bad news is that there will be about six million children with CTFs who face being left in 'zombie' funds, trapped by providers who no longer feel they need to offer a competitive deal," she said.