Junior Isas: Positives and negatives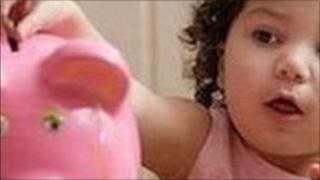 A new, tax-efficient method of saving for children - the Junior Isa - has been launched.
This takes over from the Child Trust Fund system that has been the government's flagship saving initiative for children since 2002. There are some similarities and also some important differences.
Saving for children ticks boxes all round. Parents and grandparents like to build up a nest egg to help with future expenses such as university fees, first car or a deposit for first home.
Politicians like the idea of promoting long-term savings in a country reeling from spiralling debt levels.
The financial services industry benefits from an influx of money from a new generation of savers.
Although saving for children is seen as positive, the stumbling block has always been that the tax authorities did not want parents to use children's accounts to avoid paying tax.
Where money given by a parent to a child produces a gross income of more than £100 a year, the parent is liable for tax on all the income. Even in today's low interest rate environment, savings of just £3,000 to £4,000 could trigger tax payments.
Both Child Trust Funds (CTFs) and Junior Isas get around this by forcing the parent to give up control of the money. No withdrawals are allowed until the child reaches the age of 18 and then it is legally their money.
This is both a positive and a negative. The upside is that it fosters long-term, tax-efficient saving for the child. The downside is no flexibility to access the money early if it is needed and when it does become available, the child could choose to spend the lot without the parents' consent.
These are the key points of Junior Isas:
All children aged under 18 who did not qualify for a CTF will be able to open a Junior Isa. Unlike a CTF there is no government contribution to kickstart the fund
Anyone - family or friends - can pay money with the maximum annual contribution £3,600 at launch. This can be entirely in a savings Junior Isa (cash) or an investment version (shares, bonds, investment funds, and so on) or split across both
Income or investment returns generated by a Junior Isa do not count towards a child's tax allowance - effectively any income or capital gains can roll up tax-free
No withdrawals are allowed until the child turns 18. At that time the Junior Isa can convert into a tax-efficient adult Individual Savings Account (Isa)
Junior Isa providers have already launched their advertising campaigns to woo potential investors. With both savings and investment versions available, parents will have to choose what they think will generate the best long-term returns.
Cash may be seen as less risky but there is always the danger that inflation will erode its spending power over long time periods.
The alternative is investment in stocks and shares which historically have outperformed cash over long time periods, although can be subject to both higher fees and greater volatility. Investment companies will be offering plans enabling people to invest modest sums on a regular basis, which should help to smooth out the average costs over time.
Strategy
Different investment strategies will also be available - some investing in low-cost funds which track the whole market, some in active funds that try to pick good investments, plus more niche areas such as ethical or Sharia-compliant investments. Transfers between Junior Isa providers will be allowed.
Unfortunately, those with CTFs will not be allowed to convert them into Junior Isas - at least not yet. The good news is that the CTF contribution limit, currently £1,200 a year, will now match the Junior Isa limit at £3,600.
The bad news is that there will be about six million children with CTFs who face being left in "zombie" funds, trapped by providers who no longer feel they need to offer a competitive deal.
Nationwide Building Society, for example, has already launched a Junior Isa paying up to 3% on cash while its many cash CTF holders can earn only 2.1%.
Ultimately, only those with spare cash to save for children benefit from these tax breaks. Somewhere between a quarter and a third of all CTFs receive regular sums - on average around £25 a month - and Junior Isas are likely to show a similar take-up.
The maximum £300 a month investment could grow to more than £100,000 over 18 years if returns average 5% a year, but realistically that level of contribution is only possible for the wealthy.
However, where Junior Isas and CTFs could deliver real benefits is in the classroom. By including them in the curriculum, it could perhaps promote financial education and perhaps stop children making some of the financial mistakes of their parents' generation.
After all, children who have some skin in the game are more curious and more motivated to learn.
The opinions expressed are those of the author and are not held by the BBC unless specifically stated. The material is for general information only and does not constitute investment, tax, legal or other form of advice. You should not rely on this information to make (or refrain from making) any decisions. Links to external sites are for information only and do not constitute endorsement. Always obtain independent, professional advice for your own particular situation.