UK school tech show moves to Abu Dhabi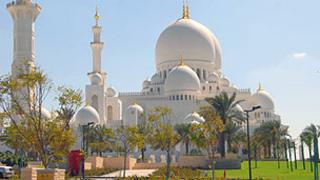 It was impossible not to be impressed by the enormous halls, the expansive public access spaces and the air-conditioning that out-did even US convention centres.
The BETT Show, that annual four-day pilgrimage to educational technology in London's Olympia, has exported itself to Abu Dhabi in the United Arab Emirates to become BETT Middle East.
This learning technology trade fair now has a branch in the Gulf, as well as its flagship London event, bringing headline acts such as Microsoft, Hitachi, Epson, Cisco, Panasonic and Hewlett Packard.
Abu Dhabi - newly-built and still partly building site - seems to like its unique selling points, whether it's claiming to have the world's fastest rollercoaster or to be the world's first city with a telecoms infrastructure built entirely on fibre optics.
It also has ambitions for education. Schools are being modernised in a project to upgrade the curriculum, teaching, classroom facilities and buildings to international standards.
Alongside the technology on display at BETT Middle East, another education event was addressing the design and equipping of new school buildings.
"One of the changes from the old to the new way of teaching is putting the student at the centre rather than the teacher," says Argentinian architect Alberto Treves, who has designed schools all over the world and who is now a section manager with the Abu Dhabi Education Council.
Building networks
The old schools, some of which looked like fortresses with their high boundary walls, are on the way out. The new schools are the first ever for boys and girls together (they have separate corridors).
"They are totally different from what we have done before," said Mr Treves.
The design concept is based on learning communities - four to five classrooms plus a science lab and a maths lab around a break-out space, with a teacher workstation in each learning community.
The BETT Show in London has become something of an annual meeting place and Mr Treves says such education shows in the Emirates will be "very beneficial" in sharing ideas.
"This year for the first time we are getting people in from Bahrain, from Egypt. Last year we had people in from Jordan. We would like to expand that regional interaction... because they may have problems similar to ours and they may have solutions that will eventually be better than ours."
It is understood that representatives from the Libyan transitional government have also made contact.
'Essential conversations'
The building of such "conversations" is important, says Ralph Tabberer, a former senior UK civil servant and now chief operating officer with the Dubai-based GEMS Education.
"I think the first thing that's interesting about BETT Middle East is the development of a mature conversation between educators and suppliers in the region," he says.
"I'd say that if you look back at the history of BETT in the UK over about 30 years, the striking thing is how it has brought together suppliers and consumers in the education industry, and there is a regularity and a quality to that debate in the UK. It has influenced more than the UK, it has influenced everybody globally.
"And when you are in a region like this where education is emerging and strengthening, just as the economies are emerging and strengthening, you need to put people together in professional associations, in meetings so they get to know each other and they get to adapt their solutions to their problems.
"So this is an essential conversation and I most certainly take part in it avidly because it feels like BETT felt like when it started."
The event was set up at the request of the Abu Dhabi Education Council. "They are extremely keen to reform and improve their school system out here," says Joe Willcox of show organisers EMAP Connect.
"And it's really a challenge for them to give educators working in the public schools a meaningful opportunity to use, experience and play with the technology."
He talks of the business interest in the "enormous potential of the region" for education providers.
There have already been reports of a boom in private education in the UAE, attracting overseas investors.
Export markets
This export drive is even more important for firms specialising in education technology and design when the UK has seen the cancellation of home-grown projects such as Building Schools for the Future.
However, the importance of events like BETT Middle East goes further than a simple match of timely local needs to a simultaneous decline in European and US markets.
It also signifies the globalisation of learning and the organisations and companies which serve it. Promethean was once seen as a a relatively small UK supplier of interactive whiteboards. While observers were looking elsewhere it suddenly went global and now has offices worldwide, including in the Middle East and in Atlanta USA.
"We are not living in the old world of the UK and other elite Western economies versus the rest of the world any more," explains Promethean's head of international marketing, Chris Merrick.
"We are moving to a flat global society and economy. So it's not a case of let's do everything first in the UK and everyone can catch up, as once was the case. We have recognised that new ideas, innovation, and new methods of best practice are not just starting in the West any more; they are starting all over the world.
"The world is moving ahead in parallel, and BETT Middle East is evidence of that - schools and teachers in the Middle East, plus Latin America and Asia, are hungry for change and technological innovation. In fact many are further ahead in this than some of the former 'top nations'.
"That's why we have to be at events like BETT Middle East. As a global player we have to be part of that conversation."
Merlin John is an education technology writer and editor of Merlin John Online