Mortgage approvals start falling, Bank figures suggest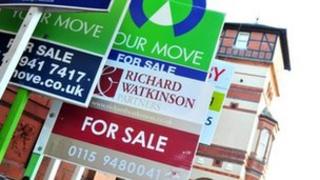 The number of new mortgages approved for home buyers, but not yet lent, fell in September for the first time in five months.
The Bank of England said approvals for home buyers were 50,967 in September, down 1,380 or 3% from August.
The figures suggest that this year's modest revival in sales has ended and that mortgage related sales may fall again in the coming months.
In September, completed sales fell for the second month in a row, to 72,000.
The figures from HM Revenue & Customs (HMRC) showed that sales last month had fallen by 11,000 from the July peak of 83,000.
"September's retreat in mortgage approvals reinforces belief that there is little evidence of any significant step up in housing market activity," said Howard Archer of IHS Global Insight.
"Prices are likely to trend down over the coming months in the face of very low consumer confidence amid persistently weak economic activity, markedly rising unemployment and muted earnings growth," he added.