HTC expects quarter-on-quarter revenue dip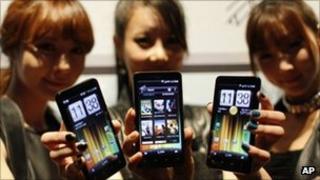 Taiwanese smartphone maker HTC has said it expects slightly lower revenues and shipments in the fourth quarter than it recorded in the third.
The company cited uncertainties from new models due to be launched by itself and by its competitors.
HTC forecasts revenues of 125-135bn Taiwanese dollars ($4.2-4.5bn; £2.6-2.8bn) in the last three months of the year.
The firm's third quarter revenues totalled NT$135.8bn.
It predicts that it will ship between 12 and 13 million handsets during the last three months of the year, down from 13.2 million units in the third quarter.
Earlier this month, HTC said its net profit for the third quarter rose 68% year-on-year to NT$18.6bn. This was much slower than in previous quarters, but within expectations.
'No compromise'
HTC said it was more optimistic about its LTE 4G phones to be launched in the first quarter of 2012.
Chief financial officer Winston Yung also stressed that the company had no plans to launch a smartphone costing less than $100, as some reports had suggested.
"We hope to capture the opportunities from customers migrating from feature phones to smartphones with our quality," he told a telephone conference.
"That's something we won't compromise, we cannot launch low-end products."
HTC's smartphones for the mass market are currently priced between $200-250, he said.