Barclays profits rise thanks to cost-cutting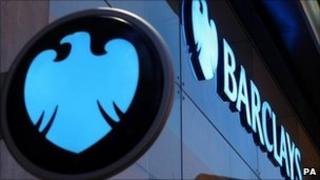 Barclays has reported a 5% rise in third-quarter profits, helped by continuing cost-cutting work.
It made a pre-tax profit for the three months to 30 September of £1.34bn ($2.1bn), compared with £1.27bn for the same period last year.
Its quarterly revenues were 3% lower at £7bn in the face of "significant economic and market headwinds".
While profits more than doubled at its UK retail banking business, they fell at its main investment banking unit.
Barclays' UK retail banking operations made a pre-tax profit of £494m, up from £230m a year earlier, while pre-tax profits at Barclays Capital fell 49% to £388m.
'Reassuring'
For the nine months to 30 September, the bank's group-wide profits rose 18%.
Barclays chief executive Bob Diamond, said: "Our focus on cost reduction continues to deliver results and we are confident that we will exceed the £1bn savings target we set earlier this year."
He added that the bank's performance had been "reassuring" during a period of "considerable challenge and uncertainty", which had hit Barclays Capital particularly hard.
Referring to the eurozone rescue deal agreed by European Union leaders last week, Mr Diamond said it was "calming and substantive", but that more work had to be done.
Analyst Richard Hunter, head of equities at Hargreaves Lansdown Stockbrokers, said: "As expected, the investment banking unit has seen a significant decline in revenue, set against an erratic trading environment.
"Regulatory concerns remain a feature, even though the UK banks seem to have excused themselves from the European recapitalisation requirements."